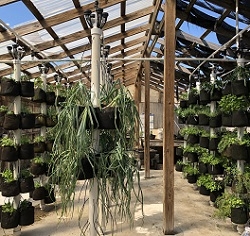 Indiantown, FL, April 10, 2018 --(
PR.com
)-- Growmor, a new Florida company on a social impact mission, has signed an exclusive distribution agreement with Sun State Organics for their Growpol vertical growing technology. Designed to enable and empower the next generation of farmers, the Growpol system grows food in fabric bags, organically, in soil without any chemicals.
"We have built a system that makes it possible for people to make money in agriculture," said Brian Donnelly of Sun State Organics. "Unlike conventional systems that require costly chemicals and artificial growing media, the Growpol system uses organic waste and premium grade micro nutrients and fresh water to produce food. Shipping chemicals and artificial this and that around the planet is very costly and involves many people and takes a lot of time - all things no one can afford if they want to control their bottom line," said Donnelly.
"The next generation of farmers are all around us," said Greg Flewelling. "They are the ones who have been forgotten and abandoned and left without hope or their health. We are going to change that - we are going to provide them with the training they need to be productive and live with hope and pride. These people are not looking for a hand out they are looking for a hand up and we are here to give them that and much more," said Flewelling.
Growmor has established a unique training program for under-utilized people and people with special needs in Indiantown, Florida. Growmor University, run by Jonnie Flewelling, has developed a hands on practical training course to serve teens and adults, with an array of developmental disabilities, with commercial agricultural and culinary training programs that enable them to fulfill their life's full potential and gain employment. "We are a socially responsible company," said Jonnie Flewelling "and have created a high impact non-profit program that brings under-utilized people including Disabled, Veterans, Seniors and people with special needs out of the shadows and into the sunlight by giving them training in an industry in need of well-trained specialists."
"We will employ Kinesthetic learning in our program. Kinesthetic learning is a learning style in which learning takes place by the student carrying out a physical activity, rather than listening to a lecture or watching a demonstration. According to the theory of learning styles, students who have a predominately kinesthetic style are thought to be discovery learners: they have realization through doing, rather than thinking before initiating action," said Jonnie.
Growmor seeks to establish operations around the world. Growmor will primarily establish farms that it owns and operates but occasionally, depending on the client, will license their technologies and establish a royalty fee structure that compensates Growmor for the technology transfer and on-going support and service. Growmor is in talks to open up several offices around the world in the next 60 days and plans on adding more facilities in the months ahead.
"The west was not won on lettuce," says Donnelly. "The Growpol system grows the widest array of plants, grows organically and can be operated by novices with a very high success rate. When you look around at what all these new fangled hydro or aeroponic systems grow its all herbs and lettuce. I don't know about you but I can't get by on just that. We grow corn and cucumbers and very large plants - we grow all the little stuff too. People seem to be floored at seeing our root crops growing in mid air - now that's something you don't see in these 'new' systems. We have systems in operation producing food for the finest supermarkets and restaurants being run, not by people in lab coats, but by people who have limited experience in growing and are looking for something natural and meaningful. And what could be more natural and meaningful than producing local, fresh, safe, organic food that heals instead of hurts you," said Donnelly.
Flewelling said, "Maybe we are crazy people trying to change the world but we believe at our core that people guided by passion to create the best - brings out the best in others and they are the ones who can change the world. That is who we are at our core - change makers and we are very passionate about it. If you don't like what you see then change it - we don't like fake food - so we grow only the best organic food possible."
For more information please visit Growmor at http://Growmor.Farm or on Facebook at https://www.facebook.com/GrowmorFarm/