Ecuador Bike Rental by Sleipner, a New Option in Ecuador
Ecuador Bike Rental by Sleipner is a brand new company, however, its business model has attracted the attention of the local Ministry of Tourism in Ecuador granting the company the Q batch for its High-Quality standards being the only motorcycle tour operator in Ecuador with the award.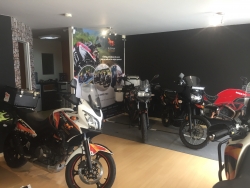 Quito, Ecuador, April 13, 2018 --(
PR.com
)-- Ecuador Bike Rental by Sleipner is a new option for adventure motorcycle enthusiasts. Located in the Ecuadorian capital Quito, it presents a different business model to the other tourism operators. Being able to design your own tour according to your availability of time, budget and tastes.
Although this is a relatively new company, it does not leave much to be desired compared to the most experienced. Its ranking in social and tourism networks is spotless. Customers who have already passed through its doors give comments such us: "Very good treat," "Just what I needed," "I finally got to know Ecuador very well."
www.ecuadorbikerental.com
has gained a reputation that has attracted the attention of the Ecuadorian Government, the ministry of Tourism and the Mayor in Quito, which awarded them, in their first year of operation, with the Q Batch. Distinctive honor awarded to high-level tourism operators in Ecuador.
"The difference in Ecuador Bike Rental by Sleipner, is that we want our customers to feel satisfied to choose the type of adventure they want to have. Not everyone wants to see the same thing or enjoy Ecuador in the same way, that's why we give our customers the option to organize their own adventures," says spokesman and owner David Garces.
He relates that he likes to share his experiences; motorcycling, being the former Pan-American Champion 2015 in Peru racing his Ducati, and long trips such as Quito to Ushuaia, an unprecedented adventure trip.
David says: "Among our services are pre-stablished guided tours, self-guided tours, motorcycle tours and our specialty, Custom tailored tours. We use cutting-edge technology in satellite tracking to ensure 24/7 support from our headquarters. The motorcycles in Ecuador Bike Rental by Sleipner go through a complete mechanical check before each tour for the safety of our friends. The routes are checked periodically to ensure their condition, specially when is off-road."
Bryan Villamil, Commercial Manager of Ecuador Bike Rental by Sleipner adds: "The gear we use is new, and safety gear includes: helmets, jackets, pants, gloves, boots. On our guided tours we have last generation intercoms among all the participants that our qualified guides use to explain what they are seeing on real time so their experience is optimal. In addition, in all of our tours, travel insurance is included which is mandatory in Ecuador."
Ecuador Bike Rental by Sleipner has a large fleet of motorcycles for both, asphalt and dirt roads. The most reliable brands include: BMW, Suzuki, Aprilia and Ducati. In addition, by being Local Tour Operators and working with renowned local suppliers and hotels, their prices are pretty affordable, with discounts and great monthly offers.
Contact
Ecuador Bike Rental by Sleipner
David Garces
0059326055777
https://www.ecuadorbikerental.com
In Ecuador: +593984971806

Contact