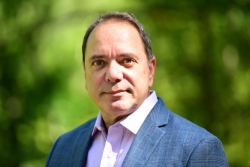 Burlington, KY, April 16, 2018 --(
PR.com
)-- Intrepid gaming veteran
Fred Buro
, will shed light on how the technology revolution is forever changing the way business is conducted by casinos.
"If you treat Disruption, Leadership, and Transformation, as harmless buzz-words, you do so at your own peril," said Buro, CEO of
Severity Inc
. "These are extraordinarily times – many esteemed tech experts say we are in the early stages of a digital revolution; I agree," says Buro. "And extraordinary times require extraordinary actions."
Buro will moderate a panel of experts April 18, at the National
Indian Gaming
Association (NIGA)'s tradeshow and convention, which is the premier event for the Indian Gaming industry. Jay Sarno, President of
Jay Sarno & Associates
and Samantha Urban, CEO and Hospitality & Tech Advisor of
Urban Translations
will also be participating in the discussion.
The title of the panel is "A CEO Perspective on Enterprise Leadership and Transformation."
"There's significant risk to mandating any type of enterprise transformation. The simple fact is that; if you are to survive this revolution, transformation must happen - and disruption will happen since you must rapidly move away from a legacy culture while demanding leadership from those who have never been called upon to lead," says Buro. "Digital transformation requires passionate cross-functional leaders, especially in the tech area."
"It's a hot topic that will precipitate one heck of a discussion," said Buro. "We will be taking on the daunting challenges that are facing CEO's and CIO's today. This tech revolution is delivering devastating blows to budgets, strategies, plans, and cultures."
"There is a huge cultural fissure in casinos between the tech and the marketing folks that needs to be addressed and rectified; let's call it a 'Skills Gap,'" says Buro. "Businesses find themselves in the conundrum of trying to hire experienced marketers who are likely short on tech skills or hire tech savvy millennials short on the requisite marketing skills."
NIGA is the largest gathering of tribal leaders and casino executives in the country. It is both the meeting place where the community gathers to learn, network, and exchange industry-specific ideas – but also, a celebration of the industry's success, strength, and self-reliance.
#NIGA2018
About Severity Inc.
Severity Inc. is a Marketing, Management, and Development firm. It employs C-Level gaming executives who have deep expertise in casino management, marketing, operations, and finance. www.severityinc.com.