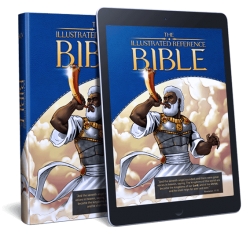 Atlanta, GA, April 16, 2018 --(
PR.com
)-- The Illustrated Reference Bible is a full, King James version Bible, complete with beautiful illustrations throughout the Bible showing biblical characters as they actually appeared in ancient times. The second edition boasts new and updated illustrations, a biblical calendar, maps, lineage charts and My Bible History fun facts, quotables and more.
Commenting on the motivation to create a second edition the team at My Bible Culture said: "We wanted to enhance the second edition by adding more resources and features like a biblical calendar, historical artefacts, fun facts and quotable. Giving people more information concerning the history of the scripture, so they can digest it a lot easier."
The truth is that many people do not understand the bible and so find it hard to spend time reading it. In fact, a 2017 study conducted by Lifeway Research found that only 30% of Americans read the Bible. In another study commissioned by the American Bible Society, only 3% of teens read the bible. My Bible Culture is aiming to break this trend with a Bible that is easier to understand and designed to capture the imagination and interest of readers of all ages.
Far from the typical illustrated Bible, The Illustrated Reference Bible features seven color coded sections to make it easier to navigate the Bible, comic strips that clarify the stories and create interest as well as scripture and page references that simplify the studying of the scriptures.
It's not just about creating a Bible that is easier to understand. The Illustrated Reference Bible is bridging a gap in a market where illustrated bible typically depict Caucasian people. Not only is this historically inaccurate but it has also impacted the psyche and spiritual growth of black children. The Illustrated Reference Bible is changing all that with its powerful illustrations of black people that readers can truly relate to.
One customer, Kimberly W. summed up the overall appeal of the Bible. She said: "Finally found a Bible that my family can't wait to read. I originally purchased one, but my boys fight over who gets to use it each day, so I purchased another one today. The references are on point and illustrations are fantastic."
My Bible Culture's The Illustrated Reference Bible is available in digital and hardback editions for a retail price of $24.99 and $49.99, respectively. For further information or to purchase copies, visit:
https://www.mybiblehistory.com/irb
About My Bible Culture:
My Bible Culture is the premier Bible-based education company with a specific focus on personal development and creating a solid relationship with God. Known for its popular sold out products, like "The Illustrated Reference Bible," the company provides tools to helps families to become closer with God and increasingly familiar with His Word by developing engaging traditional and digital educational products.