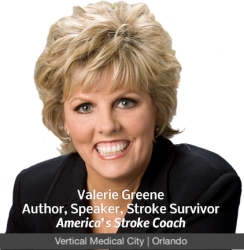 Orlando, FL, April 23, 2018 --(
PR.com
)-- Valerie Greene, a world-renowned stroke prevention and recovery expert and survivor is the newest addition to the Vertical Medical City team.
Greene, in addition to being a sought out speaker and published author, has worked at both state and congressional levels to support legislation for stroke care and was instrumental in helping to pass the Florida Stroke Act signed into law on June 17, 2004. Founder & CEO of Global Stroke Resource, Inc. (aka B-Center) her guidance and message of hope has become a beacon of light to millions around the world. Now she is ready to share that light at her new care center to be located within Vertical Medical City | Orlando (VMC ORL).
"It is astounding, the immense leaps we continue to make as a team in becoming the leading destination for Aging-in-Place," said Ponte, Lead Developer of Vertical Medical City and CEO/Lead Architect at Ponte Health.
"Valerie is my stroke angel. Her guidance saved my life." - Secily, from Florida.
"There is no one better suited to bring long-term recovery to a stroke survivor than Valerie Greene." - Kevin, from New Jersey.
In addition to establishing the first of her centers in Vertical Medical City, to be in operations upon the complex facility's completion in Downtown Orlando (projected for 2023), Greene will contribute to the project's development at large.
Valerie Greene personally overcame grim odds in the aftermath of two debilitating strokes that nearly took her life at just 31 years old. Acknowledging that her miraculous survival and recovery could impact others afflicted by stroke or any disability, Greene crusaded for years to support healthcare advocacy, programs and education, and now serves as a international stroke coach. Visit ValerieGreene.com or call (888) 942-Bwell (9355).