Wyndham Garden Hotel to Undergo Major Renovation
AD1 Global to invest millions of dollars to update exterior, lobby, rooms.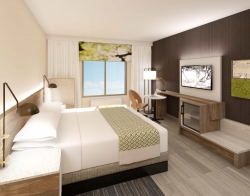 Hollywood, FL, April 23, 2018 --(
PR.com
)-- AD1 Global announced today that it has begun renovating the Wyndham Garden Tallahassee Capitol. The multi-million-dollar project began two weeks ago and is slated to be complete in September.
"We are doing it in phases," said Chief Operations Officer Gilberto Sanchez. "We hope to finish the first floor in May and then we start the second and third floor right after that."
The renovations are meant to reflect the new Wyndham Garden prototype which emphasizes guest comfort and usability.
"The Wyndham Garden properties are typically located in business, airport, and suburban areas. The design philosophy is to offer a tasteful, intimate hotel with comfortable guestrooms that feature a wealth of amenities."
"And of course, we are planning for flexible meeting space that can accommodate a wide range of functions," he added.
After all the floors are finalized in August, the company will take a short break before beginning the common areas. All construction should be done by the end of September.
"We are very excited about this complete overhaul, and I think our longstanding guests and the local business community are, as well," said General Manager Krista Alfaro. "This particular property has been in need of this for a long time. I am very happy to be a part of what is yet to come!"
AD1 Global, which took over ownership of the hotel in September 2017 currently owns and operates 10 hotels, nine in Florida. The company is also developing several mixed use and other hotel projects in the Orlando, Dania Beach, and Palm Bay area.
About AD1 Global:
AD1 Global is a hospitality development and management company located in Hollywood, Florida. The company excels in all facets of the hospitality industry, ranging from the acquisition of existing hotels, new developments, management and daily operations.
Contact
AD1Global
Jon McMillian
954-434-5001
www.ad1global.com

Contact