The Long Awaited Ace Stone Crime Fiction Adventure Series by Acclaimed Author Nicholas A. Price Has Been Released for 2018
Based on a true story, Price takes readers on a thrilling rollercoaster ride through the world of high-finance and the dark underbelly of the international criminal underworld. Filled with hard-boiled, fast-paced, gritty action, the novels are full of surprisingly powerful twists, turns and cliff-hangers. This series is sure to garner the interest of the motion picture industry.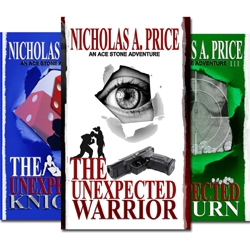 New York, NY, April 25, 2018 --(
PR.com
)-- The Ace Stone Crime Fiction Adventure Series by Nicholas A Price has finally been released for 2018; the three book set includes The Unexpected Warrior, The Unexpected Knight and The Unexpected Return.
The main character Ace Stone travels from his humble beginnings in London with illegal underground boxing promotions and uncanny business endeavors in the 1970's and 80's, through to his dubious dealings with international money laundering and drug trafficking, betrayal and murder. Only just escaping with his life, Ace Travels to New York in the early 1990's and then on to Las Vegas for a fresh start where he ends up mixing with the international affairs of organized crime, once again ambition sails our character too close to danger when a multi-million dollar haul of mob cash goes missing and he is forced to part the USA for Africa. Once there he is embroiled in the bitter conflict diamond trade and the brutal ongoing war in Sierra Leone, whilst attempting to dodge questions from the British and American government agencies, he embarks on the largest and most risky money gathering exercise of his life.
The Ace Stone series is based on a true story and has a distinctive global flavor, Price called upon his unique knowledge of the intelligence community along with the political arena and criminal underworld to write the crime fiction novels in four diverse locations. The Unexpected Warrior started life in London and was completed at his private writers retreat in Florida, the second novel The Unexpected Knight was written in his Nevada home and the third book The Unexpected Return marked his revisiting the West African interior where part of the novel is based. A fourth book in the Ace Stone series is in the works and due out in spring 2019.
After spending time in International high finance and complex emerging markets, Nicholas A. Price left the business world and is now recognized as a true renaissance man, through his writing and artistic endeavors which include a body of work in the permanent collection of the United States Library of Congress. His art and sculpture is in museums, galleries and prestigious private collections in thirty five countries.
The Ace Stone series and Price's other written works are available from Amazon.com and well-known booksellers in both paperback and now all popular e-book formats, or directly from:
www.nicholaspriceauthor.com
.
Contact
Bulldog Publications, Est. 1980
Lisa Bennett, Media Relations
+1 646-481-2516
www.ToughTribe.com
Agent, Grace Windsor, grace@npellc.com

Contact