Brazen Global Chooses Denver as Expansion City to Support Women Entrepreneurs
St. Louis-Based Membership Organization Selects Olivia Omega to Lead Business-Focused Programs for Growth-Seeking Female Presidents, Founders and CEOs in Denver.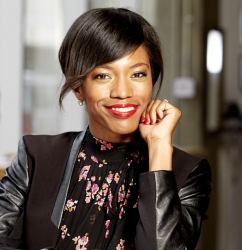 Denver, CO, April 25, 2018 --(
PR.com
)-- Brazen, a membership organization for women entrepreneurs, is opening in Denver under the leadership of acting director, Olivia Omega. Brazen is expanding to unlock the tremendous potential in "growth-seeking" women business owners, a powerful segment underserved by an existing entrepreneurship support and venture capital industry limited by its singular attention to "high growth." Brazen serves business-focused programs to a national member network of growth-seeking female presidents, founders and CEOs.
In Colorado, 86.6% of women-owned firms have no employee other than the owner (i). If every woman-owned business in Colorado added one member to their team, they could create nearly 217,000 jobs in the state (ii). Female entrepreneurs represent an incredible economic opportunity for Denver that Brazen hopes to unlock with its expansion.
Olivia Omega has been named acting director for Brazen Denver and will be responsible for leading programming, operations and collaboration with the Denver entrepreneurial community. Olivia has over 15 years of branding and marketing experience, has launched several Denver-based businesses and currently works closely with the city of Denver to support local women entrepreneurs.
"Denver is a booming market for entrepreneurs and women are starting businesses twice as fast as men," said Olivia Omega, acting director of Brazen Denver. "And yet, women only receive 2% of available funding. With Brazen's help, local women entrepreneurs will realize their growth aspirations and receive the visibility and resources that they deserve."
Brazen offers evidence-based membership programs to anyone who identifies as female and "growth-seeking," including:
● Growth Groups: Brazen's flagship program are peer advisory groups of seven to nine female entrepreneurs that meet monthly to present their greatest business challenges and work through solutions.
● Power Hours: Brazen Members can schedule an appointment with a legal, accounting, marketing or IT/tech expert every month.
● Member Events and Roundtables: These monthly events bring together sister CEOs to learn more about business growth strategies and get inspired.
Brazen Denver will give prospective Members the opportunity to experience its programs for free at a launch event on Thursday, May 31. The evening's program will include a roundtable with local business experts Phylecia Jones, Donna Evans and Kim Eickhoff.
Event details:
Thursday, May 31
6:00pm - 8:00pm
Women in Kind
3899 Jackson St., Denver, CO 80202
Visit www.BrazenDen.com to register
Brazen is launching in Denver with the support of a Founder's Committee, including Tiffany Charles, My Strategic Wealth; Pip Cousins, Elevate Momentum; Teresa Densmore, Art Restart; Triston Dimery, Dimery Brands; Susan Hyatt, Innovationaries; Alea Kilgore, business strategist; Kimberly Lopez, FIG Consulting Partners; Antoinette Massey, ANM Innovative Solutions; Hannah May, Her Creative Media; Rocío Pérez, Inventiva Consulting; and Shalisa Pouw, Bumble Denver.
Brazen Denver's launch would not be possible without the generous support of Women in Kind, Denver's first co-working space designed for women.
"Denver's economy is developing at a rapid pace and we want to see women engaged in that growth like never before. Olivia's leadership in the local entrepreneurship ecosystem and deep experience in scaling startups and small businesses makes her the perfect fit to lead Brazen Denver," said Brazen CEO and founder, Jennifer Ehlen.
Opening in Denver is part of a larger growth strategy for Brazen Global, which today announced its expansion to Chicago, Dallas, Detroit, Fort Worth and Philadelphia. It continues to operate in St. Louis, where it was founded. Brazen's ultimate goal is to create a global network of women-led businesses and supporters that can connect across geographies to grow their companies.
Brazen encourages women at all stages of business and industries to join a like-minded community, access curated online and offline resources, leverage best-practice tools and feel supported on their entrepreneurial journey. To learn more about becoming a Member or to find out about programs in your city, visit www.BrazenDen.com. Follow Brazen Denver on Facebook at facebook.com/BrazenDEN and on Twitter @DenverBrazen.
About Brazen
Brazen serves business-focused programs to a national member network of growth-seeking female presidents, founders and CEOs. Brazen was founded in St. Louis and today serves female entrepreneurs in seven markets across the country. For more information, visit www.BrazenDen.com.
Contact
Brazen Denver
Olivia Omega
(720) 729-0662
www.brazenden.com

Contact