Phlebotomy Career Training One of the First Schools in the U.S. to Offer a Comprehensive Suturing Class to Medical Assistants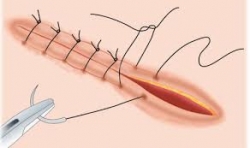 Garden City, MI, May 01, 2018 --(
PR.com
)-- The thought of anyone other than physicians, nurses or surgical technicians suturing is highly unusual. However, for the lucky medical assistants at
Phlebotomy Career Training
, the resident nurse practitioners and medical intern educators are more than happy to share their knowledge and skills. According to Nancy Kimmel MSN-FNP-BC, "We strive to graduate very educated and trained medical assistants, therefore there is no reason not to train them in suturing."
The first question posed to the school administrator at Phlebotomy Career Training was, why would your instructors offer a suture clinic? Mrs. Andzelik stated, "A poll was taken throughout the student body as to what skill they would like to learn, in addition to the basic medical assistant skills, and as it turned out, suturing was the skill unanimously agreed upon."
Interestingly, the educators at the school were thrilled to be able to show students how to suture. One of the medical school students, Mr. Taji stated, "It's good practice. We have to run sutures in lab on many types of skin, such as pig, cow and synthetic. Here at Phlebotomy Career Training, they use very real like synthetic skin. It makes for a great educational session, not only do the students learn, but I get to hone my skills."
One would ask the question as to where would medical assistants actually be able to use their new found skills? Doing some research, it appeared that in fact, many physicians expect their medical assistants to know how to suture and assist in small office procedures. Literature indicated that medical assistants can, in fact, suture up small lacerations, complete suturing of scalp cysts and perform suture removal as well as staple removal. According to Nancy Kimmel, the clinic will be a total of 8 hours, and supplies will provided to each of the students. It was also indicated that this clinic was open to not only the in class medical assistant students, but all of their online students across the U.S. who took the medical assistant program. Administration stated that although the clinic is specific to Phlebotomy Career Training Students, other medical professionals are welcome based upon their credentials.
https://www.phlebotomycareertraining.com
Contact
Phlebotomy Career Training
Nancy Kimmel
734-762-3220
https://www.phlebotomycareertraining.com
28050 Ford Rd., Ste. A
Garden City, MI 48135

Please call 313-826-2381 or 313-461-6668 to speak with their counselors regarding their online programs.

Contact