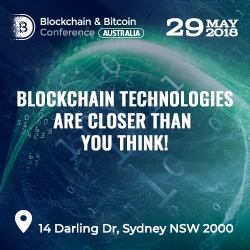 Sydney, Australia, May 05, 2018 --(
PR.com
)-- On May 29, Smile-Expo will introduce
Blockchain & Bitcoin Conference Australia
, an important event covering decentralized environment issues. Sydney Blockchain conference will be joined by main experts in the field of digital currencies and public ledger technology.
There is no clear definition of digital coins' position in Australia. What will digital coins face in the future? Invited specialists will share their opinions, based on the experience of working in the leading world corporations. They will address the issue of regulations ad legal obstacles existing in the decentralized sphere both in Australia and in the whole world in the framework of the panel discussion. The second panel discussion will look into initial coin offering: what the impact on economy is, positive and negative sides and how to recognize scams.
Blockchain Sydney will introduce presentations about the way blockchain is becoming a base for business operations, mining process, and solutions provided by decentralization in general. Among the topics discussed there will also be the importance of tokenization, bCommerce, Fintech solutions and sharing economy.
Speakers:
· Zachary Reece - Managing Partner at BlockTrade Investments;
· Stephen Pitt-Walker - Founder & Advocate, ghraa.org;
· Adrian Cartland - Principal at Cartland Law, Creator of Ailira;
· Rupert Colchester - Head of Blockchain and Practice Leader - IBM Australia and New Zealand;
· Miroslaw Janik - CEO and Co-founder of Hidone;
· Stefano Virgilli - Chief Strategy Officer and ICO Advisor at Invictus;
· Pandu Sastrowardoyo - Chairwoman, Board of directors, Blockchain Zoo;
· Paul Kang - Co-Founder at Entersoft Security ICO;
· Jian Kai (Jake) Goh - Co-Founder, CEO at Rate;
· Daniil Girdea - Founder of Arcona Digital Land;
· Jimmy Nguyen - Chief Executive Officer, nChain Group;
· Jeremy Goodwin - CEO of blockchain.syncfab.com;
· Benjamin Hall - Senior Business Systems Analyst Australian Government & ETHLEND Australian Ambassador.
Blockchain Conference Australia will also bring a demozone, a space where starting companies can acquaint visitors with their projects. Advanced and improved solutions or innovative programs that have never been suggested before will be exhibited.
Blockchain Australia 2018 will include a pitch session as well giving developers a chance to promote their ideas during a small presentation. It will help to show the advantages and worthiness of the projects. Networking time will be a part of the event, too. Cooperation and new business contracts are always a great thing, and the companies will get a chance to engage in them.
Among the guests of the Blockchain Sydney 2018 there will be investors, representatives of big businesses and corporations, start-up developers, fintech advisors and consultants and individuals interested in and enthusiastic about blockchain.
Interaction with speakers and other specialists, promotion of new ideas, broad opportunities for businesses – Blockchain Australia 2018 will offer all.
Bitcoin Conference Australia will be held in 14 Darling Dr, Sydney NSW 2000, Sydney, Australia.
The event is arranged by Smile-Expo, the international player which brings Blockchain Conferences to different countries.