First Private, Social Network for Multiple Sclerosis (MS) Patients & Their Families Launched by Curatio & BioScript Solutions®
Private, mobile social network gives MS patients and their families a way to connect, learn and share as a way to reduce isolation, stigma and loneliness.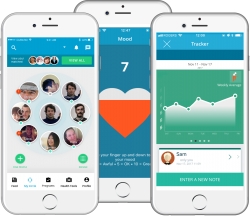 Las Vegas, NV, May 07, 2018 --(
PR.com
)--
Curatio
and
BioScript
Solutions® launch the first private, mobile patient engagement platform today at the HLTH conference, to provide peer support, trusted information and personalized programs for individuals with MS. By combining matchmaking technology, curated content and easy-to-use disease tracking tools, the platform puts health empowerment and support in the hands of patients.
Multiple Sclerosis affects an estimated 940,000 Americans, 2.5M worldwide and is especially prevalent in Canada with 1 of every 340 citizens living with the disease. MS is the most widespread disabling neurological condition of young adults around the world, with women 3x more likely to develop the disease than men. MS patients experience increased loneliness and isolation further impacting their health and wellbeing.
"As a society, we are starting to understand the detrimental and costly impact that isolation has on health outcomes and wellbeing. No patient should be alone when managing a health condition. The symptoms that people living with MS experience are particularly isolating and impact everything from quality of life to adherence to eventual outcomes. Curatio helps partners, like BioScript Solutions®, deliver private, social, patient support programs that combine personalized support with daily disease management for an all-in-one solution that drives better health outcomes and most importantly, better lives," said Lynda Brown-Ganzert, founder and CEO of Curatio.
"From a specialty pharmacy perspective, we've been searching for a technology solution to complement the high-touch, personalized services we provide our patients. Its been challenging to find a technology platform that provides patients both a private and personalized experience, yet has the ability to easily scale across our entire patient population. Curatio provides exactly that. We are excited to launch this innovative solution to the patients and partners we serve," said Jeff Wandzura, Vice-President of Innovation for BioScript Solutions®.
Through Curatio's private and free platform, patients can:
· Connect privately with peers via Curatio's proprietary matchmaking technology that finds patient "buddies."
· Track their symptoms daily. From fatigue to mood, Curatio makes it easier to manage symptoms and spot patterns.
· Participate in curated programs, self-assessments and research surveys that provide new insights and learning.
Curatio has found that social support is the missing link in healthcare, with 75 percent of its initial users already showing improved health behaviours and an 80 percent increased interest in personal health management. With Curatio, patients can protect their privacy while choosing what type of support they want and need, right from the palm of their hand.
The Curatio app is free to download on iOS and Android devices. The platform is also available for licensing to hospitals and healthcare providers, payers, pharmaceutical companies, government and NGOs in a white label or sponsorship model.
About Curatio
Curatio is the world's first private, global social community for patients that promotes social connections to improve overall wellbeing and health. Curatio delivers engagement and long-lasting connections in over 65 countries through disease-based peer networks and personalized health monitoring tools to improve health and wellbeing outcomes for patients and their caregivers.
Curatio is at booth #501 at the HLTH conference in Las Vegas.
Media contact: +16043407997 or info@curatio.me
For more on Curatio, visit www.Curatio.me.
To download the app:
https://curatio.app.link/8lEvRYefHK
About BioScript Solutions®
The BioScript Solutions® group of companies represent a full-service support system for complex drug therapies. From wholesale and pharmacy distribution, to patient support programs and drug administration, BioScript Solutions® has the capability to manage the needs of patients, prescribers, and manufacturers.
For more information on BioScript Solutions® visit www.bioscript.ca
Contact
Curatio
Lynda Brown-Ganzert
604-340-7997
curatio.me

Contact