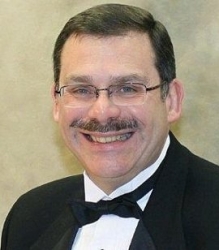 Warren, MI, May 15, 2018 --(
PR.com
)-- Jeffrey Scott Cutter of Warren, Michigan has been recognized as a Professional of the Year for 2018 by Strathmore's Who's Who Worldwide for his outstanding contributions and achievements in the field of education.
About Jeffrey Scott Cutter
Jeffrey Scott Cutter is the National President of the American School Band Directors Association (ASBDA) and serves as the Special Services Curriculum Consultant, K-12 in the Warren Consolidated Schools. In his position with the Frost Curriculum Center, he works with visual arts, music, drama, health and physical education teachers in the Warren Consolidated Schools. His duties include working with various curriculum and budgets, as well as serving as an advocate. Mr. Cutter states, "Due to the fact that they have more than 15,000 students in 25 buildings, it can be a daunting task on a daily basis."
Mr. Cutter is the Director Emeritus of Bands and Choirs at Paul K. Cousino High School in Warren, Michigan. He oversaw the entire band department including teaching all aspects of woodwinds, brass and percussion instruments and the marching band.
Jeffrey is the Executive Director of the Southeast Michigan Arts Forum and Program Director of "Weekend School of Music" at Wayne State University where they offer master class sessions to elementary, middle school and high school students on all band and orchestra instruments, including guitar and piano.
Mr. Cutter was awarded Outstanding Educator from Central Michigan University in 1990, Merit Award Winner in the Arts from the State of Michigan House of Representative in 1991 and the Fine Arts Award for Music from the Warren Cultural Commission in 1993. He received a Certificate of Commendation, "Five Outstanding Young Michiganders" from Governor John Engler in 1996. He is listed in the International Directory of Distinguished Leadership in 2000 to 2001 and was Volunteer of the Week in the "Detroit Press" in 2002. He has been listed in Who's Who in American Education, Who's Who in America, Who's Who in the World, Who's Who in the Midwest, Who's Who Among America's Teachers, Who's Who in the 21st Century and is a Lifetime member of Biltmore Who's Who. Jeffrey was interviewed on
www.banddirector.com/interviews/an-interview-with-jeff-cutter/
.
Affiliations for Mr. Cutter include Chairperson of the Warren Cultural Commission, Chairperson and Secretary of the City of Warren Council of Commissions, President of the Warren Concert Band and President of the Warren Symphony Society. He also serves as President of Friends In Music at Wayne State University and is an Elected Member of the David MacKenzie Honor Society at Wayne State University. He was a Past President of the Michigan School Band and Orchestra Association for District 16 and a Conference Committee Chairperson and Adjudicator of the Michigan School Band and Orchestra Association. Jeffrey is a member of the National Band Association, World Association for Symphonic Bands and Ensembles, the Michigan Coalition for Music Education and the National Association for Music Education.
Mr. Cutter has had a very successful career thus far teaching students life skills through music. He has had many First Division performances at local, state, national and international festivals and events. He held positions in the entertainment department of the Detroit Lions and was a member of the Super Bowl XVI Entertainment Committee.
Born on July 20, 1956 in Royal Oak, Michigan, Jeffrey obtained a B.M. in Music from the Institute of Music and Education in 1978 and a M.S. in Education from Wayne State University of Michigan in 1994. He served as a Public School Educator. In his spare time, he enjoys attending and organizing cultural events.
About Strathmore's Who's Who Worldwide
Strathmore's Who's Who Worldwide is an international advertising, networking and publishing company based in Farmingdale, New York. They are proud to be able to satisfy their clients and continue to have repeat clientele due to their longevity and pride in their products and services. The Owners strive to connect business professionals to enhance their contact base and networking capabilities so they can get the acknowledgment and publicity within their industries and beyond. The Strathmore family has been providing these valuable services for over two decades. They target executives and professionals in all industries to be featured in their publication and on-line directory. Industries include business, law, education, healthcare and medicine, fine arts, IT, government, science, real estate, entertainment and many more accomplished fields. Professional profiles are listed in an annual hardcover journal and in a detailed, searchable database on the website www.strww.com.