36Squared Business Incubator Announces Grant to Assist Disabled Entrepreneurs
Chicago business incubator offers grant funds to disabled entrepreneurs.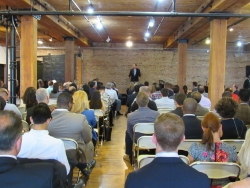 Chicago, IL, May 08, 2018 --(
PR.com
)-- Andrew Fogaty, Director of Chicago's 36Squared Business Incubator, announced at an SBA Lender Forum last month that the organization had set aside funds for a micro grant program to assist disabled Illinois entrepreneurs in launching their businesses. "There are a number of grants and incentives available for manufacturers and large companies," said Fogaty. "But very little is targeted toward helping the disabled entrepreneur. We hope to change that."
Applications will be accepted through the month of May on the organizations website, 36Business.com. A total of $5000 has been set aside for the project with a maximum award of $1000 available to any single grantee. Applicants must be Illinois residents with some type of disability that poses a challenge to their success in the business world. Winners will be announced in early June with award checks given out at a luncheon soon thereafter.
Fogaty, who also heads up a small business development program for Chicago's Greater Southwest Development Corporation, noted that advances in technology have lessened the barriers for disabled people to enter the small business world. "In my experience, persistence and the ability to overcome adversity are key factors in determining an entrepreneur's success-these are qualities that are abundant in the disabled community."
Located in the Bridgeport neighborhood on Chicago's southside, the 36Squared Building is home to more than 20 small companies. The incubator, sponsored by CIBC and in partnership with the Greater Southwest Development Corporation, offers free counseling, workshops and guidance to entrepreneurs both inside and outside the building.
For more information, or to apply visit
http://www.36business.org/36squared-boost-grants.html
Contact
36Squared Business Incubator
Melissa Ryzy
312-933-6556
36business.org

Contact