Spectrum International 2018, the Best Paso Fino Horse-Show Returns to Miami Next Week
In less than a week one of the major events of the U.S., Paso Fino horse shows will be taking place at the Equestrian Center of the Tropical Park: Spectrum International 2018. A unique event filled with the energy and passion of our Paso Fino Horse enthusiasts! Where professional riders, breeders, and amateur horse owners meet to enjoy the brisk march and brio of more than 600 Paso Fino horses. In Miami from May 23rd to 27th at the Tropical Park - Equestrian Center.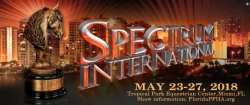 Miami, FL, May 16, 2018 --(
PR.com
)-- Different equestrian disciplines including Pleasure, Performance, Classic Fino, Trocha & Galope, Trote & Galope, International Equitation, among others will delight equestrian enthusiasts and general public attending this event. Event will start on Wednesday May 23rd at 4:00pm and the remainder days from May 24th to May 27th at 8:30am. All Championships will be held on Sunday May 27th.
This year, in addition to our Florida-breed and trained Paso Fino horses, Spectrum International will count with the attendance of renown Paso Fino Champion horses from Puerto Rico, Colombia, Aruba and the Dominican Republic. Do not miss this opportunity to enjoy their brio, elegance, and rhythmic gait.
The Florida Paso Fino Horse Association (FPFHA) is also celebrating its 50th Anniversary at Spectrum International 2018. Spectrum International program will include two recognitions this year! For the first time ever, two horses will enter our Spectrum International Hall of Fame. Come and join the celebration hosted by the Florida Paso Fino Horse Association.
Spectrum International is accredited by the Equestrian Federation of the United States (USEF) and is considered by many Paso Fino riders as one of the most versatile and challenging Paso Fino Horse competitions in the U.S. Taking place a few months prior to the National Paso Fino Championship, Spectrum International attracts every year the best riders to compete with their challengers just prior to Nationals, giving each contender a good taste of what to expect at the Paso Fino National Championship some months later.
Ticket sales are open and accessible to everyone at the price of $5.00, and available parking at $5.00. Food concessions will be available for sale. Spectrum International will be streamed live in the Florida Paso Fino webpage www.floridapfha.org. For more information about Spectrum International please visit: http://floridapfha.org/2018-spectrum-international/
Media Contact: Carolina Padilla, cpadilla@nexustv.co and carolina@floridapfha.org, cell: (720) 530.2926
Event Logistics Details and Registration Contact: Felicia Morejon, Felicia@floridapfha.org, cell (305) 916.8609
Florida Paso Fino Horse Association, Inc. (FPFHA) is a non-for-profit organization and the largest Regional Division of the National Paso Fino Horse Association in the United States.
 Carolina Padilla is a Board Director of the FPFHA. Felicia Morejon is the Secretary of the Show Spectrum International.
Contact
NEXUS TV
Carolina Padilla
720-530-2926

Contact