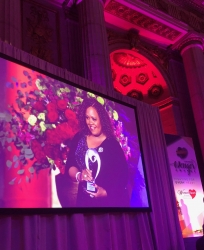 Washington, DC, May 18, 2018 --(
PR.com
)-- In honor of women's heart health and as a testimony to his commitment to health equality, Dr. Clayton Lawrence, CEO, Lawrence Executive Alliance of Professionals (LEAP), LLC, was honored to be a guest at WomenHeart's 18th Annual Wenger Awards on May 7 at the Andrew W. Mellon Auditorium. Dr. Lawrence, who was an invited guest of Boston Scientific, also was thrilled to meet actor Lamman Rucker, master of ceremonies, who is known not only for his on-screen roles, but also for his activism in minority communities for issues like health, incarceration rates and education.
Rucker's commitment to community health is in direct alignment with the role Dr. Lawrence has assumed for the District of Columbia and cities across the country. Medical staffing company LEAP, LLC, as well as the business's partner nonprofit, LEAP Foundation DC, together are devoted to globally providing competent and caring medical professionals for all clients, as well as educational and training opportunities to meet the aspirations of the underserved citizens of the District of Columbia.
"Through both my business and nonprofit, we are committed to addressing the unmet social and health needs of the people of the District of Columbia," Dr. Clayton said. "I have seen, first hand, the positive impact advocacy can have on a community in need. It is up to us, as leaders, to provide a stage and voice for those who are overlooked and disregarded. This includes tending to the health needs of the veteran and civilian patients who visit our government-contracted facilities."
Boston Scientific Corporation is clearly committed to a similar mission. The company's medical device products are used in everything from interventional cardiology to urology. Boston Scientific recently appointed Dr. Helene Clayton-Jeter, also in attendance at this year's Wenger Awards, as its national director of the Close the Gap Health Equity Program.
Dr. Clayton-Jeter's experience includes six years as the director of cardiovascular and endocrine liaison program, Office of Health and Constituent Affairs, Federal Drug Administration, as well as the health programs coordinator for the FDA. Her work has helped raise awareness of health professional and patient issues and viewpoints. Her latest endeavor aims to "eliminate cardiovascular care disparities," while helping to ensure "all patients receive optimal cardiac care, regardless of age, gender, race, ethnicity or primary language."
"LEAP is committed to diversity and assisting in the eradication of health disparities," Dr. Lawrence said. "It goes without saying that we are proud to collaborate with a trailblazer and organization clearly committed to the values we are so well-aligned with. It was an honor to be in attendance at the annual WomenHeart Wenger Awards. We believe strongly in WomenHeart's mission and it was an incredible opportunity to see so many come together at a fantastic event."
Named in honor of Dr. Nanette Kass Wenger, the annual Wenger Award ceremonies each year focus on women's cardiovascular medicine and research. Wenger has been called a pioneer for women in cardiology. WomenHeart has sponsored the event for several years and is on a mission to "improve the health and quality of women living with or at risk of heart disease, and to advocate for their benefit."
The 2018 Wenger Awardees included The Hon. Debbie Dingell (MI-12), Excellence on Public Service; Dr. Roxana Mehran, Excellence in Medical Leadership; Chandra Wilson, Excellence in Media; and Dr. Clayde Yancy, Excellence in Medical Research.
About LEAP, LLC
Driven by a mentality of servant leadership, Lawrence Executive Alliance of Professionals (LEAP), LLC, has been providing superior quality healthcare for active duty, veteran and civilian patients since 2007. Dr. Clayton Lawrence, a decorated and respected veteran of the United States Army, saw the need for a company that would operate with a new philosophy to bring forth excellence in the healthcare industry. Staffing medical facilities across the country with physicians, health educators, medical examiners and more, LEAP has been recognized with several awards of excellence and is certified by the Small Business Administration. Winning the Washington Business Journal Minority Business Leader Award for 2014 was just the beginning of much-deserved recognition for positive changes in the District of Columbia and across the nation. Dr. Lawrence and LEAP, LLC, were selected as the 2015 Washington, D.C., Chamber of Commerce's Small Business Person of the Year. In 2016, Dr. Lawrence was honored when he was entered into The Congressional Record for his work in business and civic leadership throughout the greater Washington, D.C., region and abroad. Later that year, he received a White House Letter of Commendation from President Barack Obama for his work with LEAP, LLC. LEAP, LLC's nonprofit partner organization, LEAP Foundation DC, has been building bridges between hope and achievement in the District of Columbia and the surrounding communities since 2009. The group works to address the unmet social and health needs of the area's people and, among other accolades, was recognized in 2014 with the Greater Washington Hispanic Chamber of Commerce Nonprofit Award. For more information, visit
www.leap4staffing.com
or
www.leapfoundationdc.org
.