Ubisecure Announces Growth Funding from Octopus Investments to Accelerate Growth & Meet Demand for Customer Identity & Access Management Solutions Across Europe
Founded on the principles that digital identity data should be private and protected and that connecting digital identities to applications should be straightforward and effective, Ubisecure, the established market leader in Finland, is taking its customer digital identity, authentication and management solution to a wider European customer base.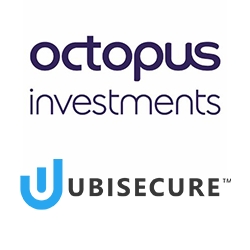 London, United Kingdom, May 17, 2018 --(
PR.com
)-- Ubisecure (
ubisecure.com
), a leading Customer Identity & Access Management software provider and cloud identity services enabler, has today announced that it has secured significant growth capital from Octopus Investments to fuel expansion in Europe and accelerate category-defining innovation and product development for its Customer Identity & Access Management (CIAM) platform.
Driven by privacy regulation such as GDPR and PSD2, as well as digital transformation and customer experience improvement initiatives, Ubisecure provides a powerful Identity Platform to connect customer digital identities with customer-facing SaaS and enterprise applications in the cloud and on-premise. The platform consists of productised Customer IAM middleware and API tooling to help companies connect, manage, secure and streamline the use of customer identities to reduce the efforts and cost of delivering connected, business-critical applications across all devices.
Simon Wood, CEO of Ubisecure, commented: "With the number of breaches involving personal information increasing and with GDPR going into effect on May 25, 2018, the subject of how companies handle identity data has become a particularly hot topic this year. Our identity platform not only protects and manages identity data, but also helps make the most of existing digital identities to create frictionless customer experience and bring about organisational efficiencies. When considering investment partners, we chose to partner with Octopus because of its track record in supporting the growth of successful enterprise software businesses across Europe, and we are very excited about our next phase of expansion."
Grant Paul-Florence, Head of Intermediate Capital at Octopus Investments, commented: "There is a huge opportunity for Ubisecure to expand its European presence, and we are thrilled to have been brought on board to support the company in this next stage of growth. Ubisecure's customers speak exceptionally highly of the world class expertise of the team and its CIAM platform, which allows companies to achieve security, productivity and workflow efficiencies at a much larger scale. This unique technology combined with the growing market opportunity makes it an exciting opportunity for our investors and we are looking forward to working with the team."
Notable Ubisecure customers across its target verticals of Telecoms, Retail, Financial & Energy include S-Group, DNA, Neste as well as several Government organisations. Its partners include CGI, Cap Gemini, Tieto and Nixu.
Ubisecure will expand personnel across the Nordics and immediately establish local presence in the UK to support new customers and partners and plans to open a local German office in late 2018.
Richard Court and Paul Davidson of Octopus Investments will join Ubisecure's board of directors.
About Octopus Investments
Octopus Investments, part of the Octopus Group, is an award-winning, fast-growing UK fund management business with leading positions in tax-efficient investments, multi manager funds, and UK smaller company financing. We can back companies through their growth cycle from early stage to those listed on AIM, providing investors with the opportunity to benefit from our active management and expertise. We manage assets for retail investors and institutions including pension funds, asset managers, fund-of-funds and family offices. And we're changing the world of investments for the better by offering a straight-talking approach to investing, exceptional customer service and a range of products that aim to do what they say they will.
Octopus is one of the UK's fastest growing companies. We're building businesses to transform markets and customer expectations. We are experts in investments, UK smaller companies, energy and healthcare. We currently manage more than £7.5 billion on behalf of our customers. Octopus Investments, Octopus Energy, Octopus Healthcare, Octopus Labs, Octopus Property and Octopus Ventures are all part of Octopus Group. Visit
octopusgroup.com
.
About Ubisecure
Ubisecure is a pioneering European b2b and b2c Customer Identity & Access Management (CIAM) software provider and cloud identity services enabler dedicated to helping its customers realise the true potential of digital business.
Ubisecure provides a powerful Identity Platform to connect customer digital identities with customer-facing SaaS and enterprise applications in the cloud and on-premise. The platform consists of productised CIAM middleware and API tooling to help connect and enrich strong identity profiles; manage identity usage, authorisation and progressive authentication policies; secure and consolidate identity, privacy and consent data; and streamline identity based workflows and decision delegations. Uniquely, Ubisecure's Identity Platform connects digital services and Identity Providers, such as social networks, mobile networks, banks and Governments, to allow Service Providers to use rich, verified identities to create frictionless login, registration and customer engagement while improving privacy and consent around personal data sharing to meet requirements such as GDPR and PSD2. Ubisecure is accredited by the Global Legal Entity Identifier Foundation (GLEIF) to issue Legal Entity Identifiers (LEI) under its RapidLEI brand, a cloud based service that automates the LEI lifecycle to deliver LEIs quickly and easily.
For more information please visit
www.ubisecure.com
Contact
Ubisecure
Steve Waite
+358 4 671 21100
www.ubisecure.com

Contact