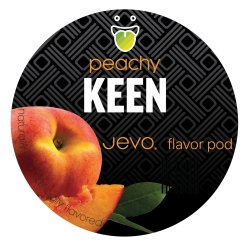 Portland, OR, May 18, 2018 --(
PR.com
)-- Jevo, the fully automated gelatin shot machine, has a fresh new flavor. Food & Beverage Innovations, Inc. (F+BI) has added Peachy Keen™ to Jevo's flavor lineup — just in time for summer. Peachy Keen enables Jevo users to create gelatin shots based on classic cocktail favorites including the Fuzzy Navel, Woo Woo and Sex on the Beach. Feeling bold? Try Fuzz Bomb, made with hot cinnamon whiskey.
Fully automated to make hundreds of gelatin shots in minutes, Jevo is the world's only gelatin shot machine. Jevo gives bars, casinos, stadiums, music venues, and restaurants the unique opportunity to offer quality, speed of service and consistency to differentiate their bar and generate more incremental revenue.
Peachy Keen joins Jevo's nine other exciting flavor varieties, which include Margarita Limeville, Watermelon Wave, Birthday Cake, Strawberry Lemonade, Wild Cherry, Orange Blossom, Appletini, Lemon Burst, and Piña Colada. Additionally, Plain Jane — an unflavored gelatin mix — allows users to create original gelatin shots using flavored spirits with or without mixers.
"Today, we can say that the flavor pod lineup offers foodservice operators the chance to differentiate their beverage program, increase their core customers' frequency, and attract new customers," says Jeff Jetton, CEO of F+BI. "Peachy Keen tastes really good with basically anything. Whiskey, rum, vodka, tequila — Peaches 'n' Cream has been a hit so far among our staff. It's made with whipped cream flavored vodka."
Sales of Peachy Keen began Wednesday and while it's too soon to say what customers' reactions will be, Jetton says early sales have been strong.
According to F+BI's website at getjevo.com, the company recently added a new Craft Shots feature for Jevo. This gives bar owners the ability to offer high-quality, edible versions of their customers' favorite cocktails.
"Jevo Craft Shots provides the unique opportunity to spark a connection through genuine experiences and the millennial generation loves nothing more," says F+BI's head of marketing, Reymond Hernandez. "Because Jevo Craft Shots create organic spontaneous fun for the consumer, it's a clever way to drive incremental sales."
Jevo has been gaining traction since its summer 2017 release, with installations in 33 states. Customers include Circus Circus Las Vegas, Luxor, MGM Grand, Hard Rock Hotel & Casino, and Royal Caribbean.
"As operators, we all know how easy it is for things to go wrong," says Tim Ryll, Beverage Director of Chicago's Four Corners Tavern Group. "While fool-proof doesn't exist, Jevo is the closest I've seen. It's made a high-margin, high-labor and highly annoying product higher margin with no labor and totally awesome. It's a no-brainer that equals bigger check averages, happy guests and a ton of Instagrams, Snaps, and all the other social media these '90s kids love."
Readers attending the National Restaurant Association's NRA Show in Chicago this week can see Jevo in action, and Jetton says peach shots will be available to try. The NRA Show runs from May 19 to 22 at McCormick Place and Jevo is in booth 11143 in the Lakeside Center.
About Jevo and F+BI
Co-founded in 2012 by CEO Jeff Jetton and VP of Business Development Tyler Williams, Food & Beverage Innovations, LLC (F+BI) is the creator of the world's first fully automated gelatin shot maker. From its headquarters in Portland, OR., F+BI spreads value by helping the food and beverage world differentiate their beverage program and boost their bottom line with great-tasting, consistently made gelatin shots.
Jevo – a sum of several global patents from its maker F+BI – is found on back bars across major U.S. markets in more than 30 states. Unveiling its first market-ready Jevo in 2017, the company's growing list of customers includes Circus Circus Las Vegas, MGM Grand, Luxor Las Vegas, New York, New York, The Mirage, Royal Caribbean Cruise Lines, Hard Rock Hotel & Casino, Chicago's Four Corners Tavern Group, and FGL House.
Media Kit: jevomaker.com/media-room
Password: media