Waters Edge Winery & Bistro Denver Voted #1 Wine Bar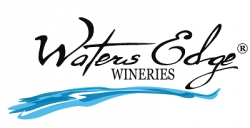 Denver, CO, May 23, 2018 --(
PR.com
)-- Waters Edge Winery & Bistro was voted the top wine bar in the greater Denver area. This annual award is driven by the voting public sponsored by The Denver A-List. Waters Edge Winery & Bistro ranked first out of 27 wine bars and wineries.
Jennifer Hulan, Waters Edge Winery's proprietor, said, "We are so thrilled to be voted #1 in 2018. We were in the top five last year and added a bistro in our winery since then. The response has been overwhelming and we're having our best year ever."
Waters Edge Winery & Bistro is a fully functional winery offering a variety of white, red, and dessert wines made with grapes from all over the world with the perfect pairings made from scratch in their kitchen by their chef. Flatbreads, sliders, Paninis, pastas, and salads made in-house with locally sourced ingredients.
Maila Dean, one of the guests at the winery, commented "What a great Bistro. Yummy food, great service and amazing wine!"
As if this weren't enough, the winery has some unique offerings to enhance their guests' experience. Wines may be custom labeled while guests wait. They may bring in a picture or just select from the many templates available. The staff will create a beautiful label in minutes with a custom message for special events, corporate gifts or just for fun.
Guests may also bottle their own vintage of wine. The winery lists all of the wine being made in their tanks on a menu board. Guests select one of the wines and after it is finished being made, guests come in to bottle one or more cases to take home and enjoy. Friends and family join to help bottle, creating a unique experience participating in a part of the winemaking process.
Waters Edge Winery & Bistro is open Tuesday - Sunday and offers an exclusive wine club with members receiving special privileges and discounts at the winery. It is located at 2101 E. Arapahoe Road, Centennial, 80122.
About Waters Edge Wineries, Inc.
Founded in 2004, the Waters Edge Winery Franchise is expanding its leadership in micro and custom wineries built in urban areas close to population centers. Waters Edge Wineries, based in Rancho Cucamonga, California, is combining the best attributes of a winery and a wine bar in one model that can be located virtually anywhere. Locations are currently in California, Colorado, Ohio, Oklahoma and Texas. For more information contact Ken Lineberger at 909-GOT-WINE (468-9463) ext 704 or visit
www.watersedgewineries.com
.
Note: Waters Edge Wineries is a registered trademark.
Contact
Waters Edge Wineries
Ken Lineberger
909-468-9463
www.watersedgewineries.com

Contact