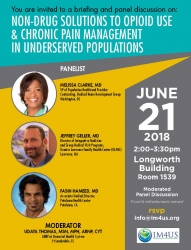 Washington, DC, June 19, 2018 --(
PR.com
)-- This week, Integrative Medicine for the Underserved (IM4US) reaches a key milestone in carrying out its mission to ensure that there is affordable, accessible integrative health care for all, and to educate and mobilize its membership to take action on this belief. Hence, this year's conference will focus on ensuring greater justice and equity in healthcare policy and practice for the underserved.
On Thursday, June 21, 2018, IM4US will head to Capitol Hill as part of its 8th Annual Conference to host a briefing and discussion on non-pharmacological strategies to address opioid use and chronic pain management in underserved populations. This is timely and important because on January 1, 2018, in an effort to address the opioid epidemic, the Joint Commission mandated that hospitals provide or educate patients on non-pharmacologic pain treatment options including acupuncture, chiropractic care and massage therapy. While these non-drug options have often been seen as a complementary approach, potentially reducing the need for opioid medications, more and more health care organizations are recognizing that in order to mitigate the opioid epidemic, non-drug therapies should be used as first-line treatments for pain management.
This briefing will reveal innovative ways to treat chronic pain and prevent opioid addictions, as well as enhance access to treatment in Federally Qualified Healthcare Centers (FQHCs) and other underserved settings that are often the front lines in the battle against opioids. These therapies include behavioral health interventions, acupuncture, chiropractic, group medical visits, and more. The panelists will share cost-saving clinical data, information about provider and patient satisfaction, as well as a patient testimonials. The briefing will also discuss barriers to effectively implement non-drug approaches, specifically the lack of reimbursement for many of these evidenced-based practitioners and services by insurances including Medicaid and Medicare, or by rules limiting what is considered "billable" in FQHCs.
Panelists include:
Melissa Clarke, MD – VP of Population Health and Provider Contracting, Medical Home Development Group, Washington, DC
Jeffrey Geller, MD - Director of Integrative Medicine and the Group Medical Visit Programs, Greater Lawrence Family Health Center (GLFHC), Lawrence, MA
Fasih Hameed, MD - Associate Medical Director, Petaluma Health Center, Petaluma, CA
The briefing will be held on June 21st in the Longworth House Office Building - Room 1539, located at 9 Independence Ave SE, Washington, DC 20515, from 2:00p to 3:30p.
Those interested in attending the briefing may contact
info@im4us.org
.
About IM4US
Integrative Medicine for the Underserved (IM4US) is a nonprofit organization that was founded by a small group of committed family practice physicians providing primary care to the underserved. They strongly believe that integrative health care should be accessible to their low-income patients. It is a collaborative, multidisciplinary group of people committed to affordable, accessible integrative health care for all. Through outreach, education, research, and advocacy, we support those dedicated to promoting health in underserved populations. IM4US works to shift the current health care paradigm towards wellness, prevention, patient empowerment, and self-care