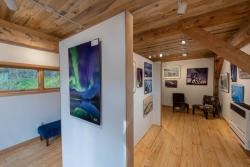 Anchorage, AK, June 28, 2018 --(
PR.com
)-- Longtime Anchorage resident Carl Johnson has opened a new fine art nature photo gallery, the Arctic Light Gallery. Featuring his award-winning images from Alaska, the Arctic, the American Southwest and Hawaii, the gallery is located at his property on the Anchorage hillside.
"I wanted this gallery to not be just another retail stop among many. I wanted it to be an experience, a destination," notes Johnson. The property, approximately 1.25 acres, contains vegetable, perennial and rose gardens, and wild habitat that hosts lynx, black bears, moose and ermine, among a variety of bird species. Visitors to the gallery are invited to explore the grounds and relax during a visit.
In a city with no fine art nature photo galleries, Johnson felt that there was a void that needed filling. "In the age of digital cameras and social media sharing, people still need art," notes Carl Johnson. He adds, "Snapshots cannot replace dynamic images from wild places."
Among the featured images is his photo, "Wolf Tracks on Ice," highlighting a pair of wolf tracks in snow, pressed on sheer ice. The image won the "Environmental Issues" category in the Windland Smith Rice International Awards and was displayed at the Smithsonian Institution's National Museum of Natural History.
The gallery will also serve as a starting point for Johnson's Anchorage-based Aurora Photo Tours and Custom Photo Tours, as well as any of his photo workshops or classes that start in Anchorage. Johnson will use a 49" television to give instructional presentations on a variety of subjects.
Visitation to the gallery is by appointment only, so visit Johnson's
website
for contact information and available hours.