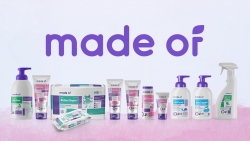 New York, NY, June 29, 2018 --(
PR.com
)-- MADE OF, the personal care company that's changing the way new parents evaluate and purchase their baby products, is announcing availability of its new product line along with a campaign to challenge the way "natural" products are marketed. MADE OF debuted to retail partners earlier this year at Natural Products Expo where it took home the Editor's Choice NETXY Award in Natural Personal Care. MADE OF was also the first company to successfully certify its line of products to the NSF Organic Standard.
MADE OF, backed by an unprecedented amount of consumer data, designs and formulates products based on the needs of consumers. The brand is setting the standard for transparency both for retail partners along with consumer education. MADE OF was the first company in the category to take this level of a leap to transparency by detailing not only the ingredients in its products, but also the sources and production details including photos, full certificates for multiple certifications along with results of rigorous testing by the highest rated independent laboratories across the globe. Those details are highlighted on all packaging and detailed on madeof.com on a product by product basis.
Researchers spent over a year interviewing expecting and new parents and reviewing their needs and market perceptions to determine how MADE OF products could provide a solution to problems and blatant and deceptive tactics used in marketing other natural personal care products. MADE OF co-founder Igor Bekker states, "MADE OF's proprietary consumer data developed from panels of thousands of parents revealed the #1 quality new parents demand from their purchases is performance, which led us to the mission of delivering a high level of effectiveness in a way no other brand has, while offering truly organic alternatives to 'natural' brands, which is an unregulated term."
MADE OF products are Non-GMO which is achieved by meeting the NSF Certified Organic standard, which is based on the USDA standard for food. "We believe the consumer shopping on one side of the aisle for organic food, should have an equally attractive alternative in personal care, without sacrificing product performance – at the end of the day it has to work, otherwise it's just plants, essential oils and water in a bottle," said Bekker. MADE OF was first to market with the NSF Organic and Non-GMO claim for an entire product portfolio, giving peace of mind to consumers seeking consistency in claims and performance.
Legal claims, and the barrage of lawsuits and settlements with brands offering "natural" baby care products are having a significant impact on discerning consumers, leading to further mistrust and presenting a need for immense research, which led to MADE OF's Ultimate Transparency Promise highlighting the full product lifecycle from farm to home. MADE OF found in its research that parents simply know what they're buying and how it's formulated without having to worry about all the lawsuits and deceptive tactics. "The amount of claims against 'natural' brands misleading consumers has skyrocketed over the past 24 months, we felt it was time to design and develop a new brand and a new era in transparency, putting the power of data in the hands of the consumer and holding our peers to a higher standard – with the lack of regulation on terms like 'natural' this will be an uphill battle, but the voice of the consumer and adoption of truly transparent brands will lead to better consumer protection laws."
Earlier this year
MADE OF
launched a limited time flash sale to early adopters on madeof.com – results were overwhelmingly successful with a full sellout in a matter of hours, with over 20,000 parents signing up to be notified of full launch. "This network of parents, coupled with our research panel, a powerful community of mom bloggers, maternal and paternal influencers and pregnancy and parenting oriented publishers will be a strong voice for the organic-first and transparency-first messages we will be shouting in the personal care space," said Bekker.
The initial MADE OF product line includes baby shampoo/body wash, baby powder,
diaper rash cream
, healing/nipple balm, baby sunscreen, baby body lotion, diapers,
baby wipes
, multi-surface cleaner, dish soap and hand soap. All products are made in the United States, diapers being the exception.
MADE OF is a direct-to-consumer business with monthly
diaper subscription
options now available on Amazon at amazon.com/madeof with future availability at madeof.com. MADE OF will be rolling out physical retail partnerships later this year.
Media Contact:
Christine Haas
christine@madeof.com
+1 (512) 751 1592