Designer Nina Nguyen Embraces Flirty, Fun and Feminine Style for Summer 2018
Looks range from accessories that accent with a whisper to sizzling scene stealers.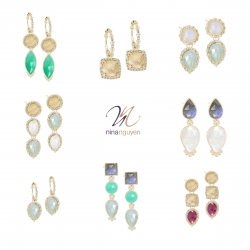 Denver, CO, June 28, 2018 --(
PR.com
)-- Summer of 2018 is heating up, and with July 4th right around the corner, jewelry designer Nina Nguyen is declaring her independence from average and heading straight to extraordinary with her surprising new collection of patent-pending earrings and earring jackets.
This summer it's all about bright colors, with pops of neon, and looks that echo a slightly vintage feel. Nina captures this feeling by embracing the more organic and natural stone look that is currently trending, while blending it to match her signature style. Her current collection features shapes, colors and metals that are fluid and feminine, with a slight edgy twist. A variety of mouthwatering gemstones are cut with style to spare, featuring everything from sleeker, polished gemstones to the striking sparkle of natural druzy. The summer 2018 collection is a jewelry lovers dream, embracing trendy colors plucked from the 2018 Spring Summer Pantone color palette, and showcasing strong, vibrant tones as well as ethereal, pastel hues.
Nguyen has filed for a patent on the innovative design element that sets this collection apart, an element which allows the pieces to be transformed for multiple-use, convertible styling. Earrings featured in the collection can individually be turned into a pendant and worn on a necklace, or used as a charm to complement her series of wrap bracelets as well.
The socially-conscious Nguyen is one of only a few designers who exclusively uses recycled gold for her 18K pieces as well as recycled diamonds for her new designs. Propelled by a resurgence in consumer demand for the yellow metal, Nguyen puts an emphasis on gold in the more than 700 sku's featured in her latest collection, but sterling silver, as well as black oxidized silver and some vermeil still play a big part in her overall design offerings. The hand-hammered, textured finish she developed and created carries through this collection, and lends a unique and brilliant touch to the pieces it is incorporated into.
When asked about her latest collection, and its impact on Summer 2018 trends Nina Nguyen said, "To me, Summer 2018 is about an explosion of colors and mix-it-up trends that allow consumers to express their own style. I've really enjoyed being able to mix and match shapes and colors to create a uniquely organic look with my latest collection, and love that it matches the Summer 2018 vibe."
Nguyen continued, "The ides for my new patent-pending interchangeable system was born from my desire to give customers who love Nina Nguyen Designs jewelry the chance to personalize their own design aesthetic. The wealth of options and flexibility within our new system will encourage repeat purchasing, and serves as a platform to expand with endless designs and provide our customers with opportunity to personalize their styles in an elegant and fashionable way."
Consumers interested in seeing the Nina Nguyen Interchangeable Earring Collection are encouraged to visit
https://nina-nguyen.com/apps/store-locator
or call Nina Nguyen Designs at 720-459-7664 to find the location nearest you.
Contact
Nina Nguyen Designs
Ann Glynn
504-615-1191
nina-nguyen.com

Contact