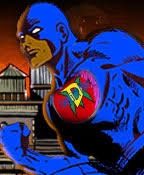 Los Angeles, CA, July 14, 2018 --(
PR.com
)-- You are invited to experience an evening with a Real Life Super Hero!
Recording Artist & Real Life Black Superhero DangerMan will release his new song "DangerMan the Black SuperMan."
Available for sale online July 18, 2018 most online music outlets.
DangerMan, the Real Life Black Superhero, works everyday to help prevent gun violence and make the streets of America safer.
Since 1998, DangerMan, the Urban Superhero has promoted literacy, safety and good health for children. He emphasizes the importance of claiming an excellent education. DangerMan empowers children to celebrate the power of reading books, staying in school, growing good citizenship, and avoiding violence and substance abuse.
The DangerMan Education Foundation, Inc. Initiatives:
"The Fun, Fitness, and Good Health Tour" partnering with the Aetna Foundation, Inc. to "Stop Childhood Obesity" and encourage good nutrition and exercise for children.
"Give the Gift of Reading, Literacy Campaign" is a national initiative serving low-income children in urban America, distributing books to those who are often the hardest to reach.
"Just Say Yes to Life Campaign" promotes an end to violence, and empowers children to say no to guns, gangs, alcohol, drugs, and tobacco.
"I can, Because I Believe I can Campaign" cultivates good self esteem, and helps kids believe they can dream, do, and become anything they can imagine.
DangerMan Hero Awards nominations now being accepted for The 3rd Annual 2018 Red Carpet Gala.
December 8, 2018
California African American Museum
Exposition Park
DangerMan Education Foundation Inc - 11684 Ventura Blvd., Suite 368 - Studio City, CA 91604 Federal Tax ID # 95-4716973
Press Contact: Jacque Schauls 612-508-7527
https://www.thedangerman.com/
#DangerMan
#TheBlackSuperMan