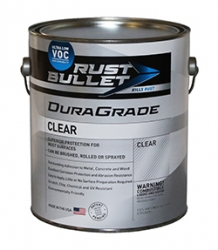 Reno, NV, July 25, 2018 --(
PR.com
)-- "Our DuraGrade products not only provide a lower VOC option for those concerned with the preservation of our environment, or are required to comply with stricter VOC regulations, they provide phenomenal protection with best in the industry performance! DuraGrade Clear exceeded the capacity of the ASTM testing apparatus/limits in three of the five tests. During the pull-off adhesion bond strength test, the concrete broke apart before DuraGrade lost adhesion. This is unheard of in our industry," said David Ciglar, General Manager, Rust Bullet, LLC.
"We used DuraGrade Clear on top of DuraGrade Concrete on our warehouse floor and mezzanine. The product was easy to apply, and the finish is clean. The clear topcoat has yet to scratch or chip. We are very pleased with the product," said John Dunlap, CEO, CashMyGuns.com.
Rust Bullet® DuraGrade Clear is a high-performance, ultra low VOC, rust inhibitive, protective coating. With just 49 g/l of VOCs, DuraGrade Clear's patent pending formula is an environmentally preferred ultra low VOC coating compliant in every state and air quality management district. DuraGrade Clear can be used as a standalone coating or as a top coat and can be applied directly onto clean or rusted metal, concrete, wood and other surfaces. DuraGrade Clear has superior adhesion and provides excellent corrosion protection and abrasion resistance. It is easy to apply by brush, roller, or spray equipment. It is scratch, chip, chemical and UV Resistant. It is ideal for indoor or outdoor surfaces. Anti-skid material can be added for a slip resistant surface. DuraGrade Clear dries to a water clear finish.
Rust Bullet® DuraGrade Clear is perfect for sealing in Rust Bullet® Color Flakes for a stylistic finish. Rust Bullet® Color Flakes are specially formulated paint aggregates used to enhance the aesthetic qualities of Rust Bullet's Concrete Coatings. This unique product is random in shape, sized within a standardized range and are available in five popular color blends.
Available Rust Bullet® Color Flakes Color Blend Options:
*Electric Blue Blend
*Midnight Blend
*Black Marble Blend
*Desert Sand Blend
*Autumn Brown Blend
Rust Bullet, LLC reports the following impressive ASTM test results:
*Taber Abrasion (ASTM D4060): 38 mg / 1,000 Cycles
*Impact Resistance (ASTM D2794): >40 inches (exceeds max test limits)
*Mandrel Bend (ASTM D 522-13): >32% without cracking (exceeds test)
*Pull-off Adhesion Bond Strength (ASTM D7234-05):
- 50mm dolly: >525 PSI (Dollies unable to be removed at ~525 max psi)
- 20mm dolly: >1485 PSI (the concrete broke apart before DuraGrade lost adhesion)
Rust Bullet, LLC is a coatings manufacturer, headquartered in Reno, NV, USA, specializing in protective, rust inhibitive and corrosion control coatings. Rust Bullet, LLC sells to businesses and consumers around the world through its global distribution network.
For more information, contact Rust Bullet, LLC at 1-800-245-1600 or via email at sales@rustbullet.com. DuraGrade Clear is currently available in quart, gallon, and 5-gallon unit sizes. Purchase DuraGrade Clear on Rust Bullet, LLC's website or on Amazon. Add some style to your project with Rust Bullet® Color Flakes from Rust Bullet, LLC's website or Amazon.