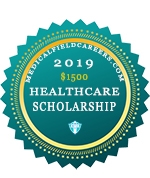 Vista, CA, July 25, 2018 --(
PR.com
)-- MedicalFieldCareers.com, a free online resource for students training for careers in healthcare, is pleased to announce its new scholarship program for the 2018-19 academic year – the MedicalFieldCareers.com Healthcare Scholarship.
MedicalFieldCareers.com's scholarship program awards $1,500 to the applicant who submits the best 1,000-word essay on why he or she wants to work in the healthcare industry. Additional eligibility requirements for the award are that the applicant must be 1) at least 18 years of age, 2) have completed high school or the G.E.D., and 3) must be enrolled in a nationally-accredited healthcare career program for the Fall 2019 semester.
"We wanted to show our support for the next generation of healthcare professionals in the United States, and felt that offering a scholarship to a deserving student was the best way to achieve this," said Matt Bromley, MedicalFieldCareers.com owner and webmaster. "So many healthcare support positions are unfilled around the country, and this $1,500 scholarship can actually pay for a significant portion of the tuition costs at many programs that offer training for those positions. Our hope is that this award will open the door for someone out there who otherwise may not have been able to afford the training required to pursue their career ambitions."
Applications for the
MedicalFieldCareers.com Healthcare Scholarship
may be submitted online anytime between September 1, 2018 and April 30, 2019. The winner will be chosen during the first week in May 2019, and will be notified via email by May 15, 2019.
About MedicalFieldCareers.com
MedicalFieldCareers.com
is an online provider of free information on healthcare career training, certification requirements, and salary and employment outlooks by region. All data featured on the site is pulled from official U.S. Government sources. All training programs and educational institutions featured on the site are accredited by major national accrediting bodies.