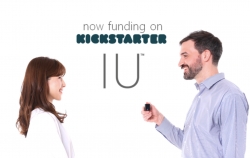 Tokyo, Japan, July 26, 2018 --(
PR.com
)-- The world's smallest and lightest Translation Device "IU" succeeded 470,000USD crowdfunding in Japan.
IU Global begins sales on Kickstarter with their world-first device that delivers over 20 readily translatable languages as well as the world's first offline English to Chinese and vice versa translation device.
IU is a translation device that fits into the palm of your hand and allows you to talk with anyone around the world without need to know their native language. It currently boasts over 20 different translatable languages. It's the world's smallest and most lightweight device that allows you to translate very popular languages such as English, Chinese, Korean, French, Italian and many, many more. The special thing about this device is that it also has the ability to translate English and Chinese while offline.
Offline translation capabilities
English / Chinese
Online translation capabilities
Arabic / Greek / Danish / Dutch / French / German / Korean / Indonesian / Chinese / Italian / English / Japanese / Vietnamese / Russian / Spanish / Swedish / Hindi / Taiwanese / Portuguese / Cantonese / Turkish
Moving forward with their overseas sale of the device as of July 2018, sales on Kickstarter will begin. Other than translation, the device can be used for things such as calls or as a portable Bluetooth speaker when listening to music or watching videos.
- Kickstarter IU Project Page
The world's first offline translation device. The smallest and most lightweight device with over 20 available languages. IU, the translation device that fits into the palm of your hand.
URL
www.kickstarter.com/projects/2026888574/iutm-a-new-innovative-and-useful-translation-devic
Usage
1. Before using the device, please download the free "IU" app from your phone's app store. (requires registration)
2. After connecting your smartphone via Bluetooth to the IU device, open the app and set up the languages you wish to use. Ensure you set the "I" language to your own language and the "U" language to your partner's language.
3. Press down the "I" button until the device beeps, after this you are able to speak to the device. Once you have finished speaking, release the button and the IU device will say your translated sentence.
4. Hand over the IU device to your partner and have them hold down the U button and do the same with what they would like to say.
5. Language settings: To change the language settings, all you have to do is speak to IU. Simply hold both the "I" and "U" buttons down at the same time for 3 seconds. After you do, the device should ask you to select your languages, ensure you keep pressing both the buttons down and say your languages in order of "I" then "U" to the device. If you wanted to set the "I" to English and "U" to Italian, then you would simply say, "English, Italian". The device will then change the languages accordingly.
Device Information
Signal Type: Bluetooth 4.0
Weight: Approx. 34g
Measurements: Φ30x36mm
Power: Lithium battery
Mic: Noise-cancelling dual microphone
Usage time: 5 hours
Required charging time: 1.5 hours (Can differ based on charging method and remaining charge of battery)
Included items: IU device, Micro-USB charging cable, neck strap(black), instructions manual, product warranty
Compatible OS: iOS 10.0 and above, Android 6.0 and above
Country of origin: Taiwanese
Contact information
Intelligent Group Ltd.
E-mail: info@itgsesel.com
Home page: http://i-u.com.tw/en/
* Samples can be provided if any media or company require.