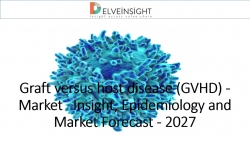 Delhi, India, July 30, 2018 --(
PR.com
)-- Graft versus host disease (GvHD) is a disease caused when cells from a donated stem cell graft attack the normal tissues of the transplant patient. Symptoms include, but are not limited to, jaundice, skin rash or blisters, a dry mouth, or dry eyes. It is of two types i.e. Acute GvHD (aGvHD) and Chronic GvHD (cGvHD), out of which cGvHD remains one of the major complications after allogeneic HSTs and a leading cause of non-relapse mortality (NRM) in patients surviving more than two years.
According to the latest report of DelveInsight, "Graft Versus Host Disease (GVHD) - Market Insights, Epidemiology, and Market Forecast-2027," in 2016, there were 9,847 and 9,006 cases of aGvHD and cGvHD, respectively, in 7 MM. United States accounts for the highest GvHD Cases, followed by EU5 (Germany, France, Italy, Spain & UK) and Japan. In the United States, there were 4,037 diagnosed incident cases of acute GvHD in 2016. Out of this, around 27% of the cases were reported in Sibling Donor, while rest were in Unrelated Donor (URD). GvHD market is divided into Prophylaxis and Therapeutics, where in the latter is further divided into Acute GvHD and Chronic GvHD.
GvHD market majorly comprises off-label therapies due to the scarcity of any approved drugs on the market. To date, there are only three approved therapies, namely, Imbruvica (approved in US for cGvHD), Temcell (approved in Japan for aGvHD), and Grafalon (approved in Germany for Prophylaxis). The US market size of acute GvHD was found to be USD 55.6 Million in 2017, and is expected to increase with a significant growth rate from 2016-2027. This increase in market size is expected to happen due to the launch of seven new drugs in this space for the forecasted period. Among these seven, most of the drugs are being developed for steroid refractory acute GVHD.
The 7MM market is estimated to grow at a CAGR of 13.8% from 2016-2027. A market analysis study carried out for the period of 2016-2027 shows that the GvHD 7MM Market Size was USD 378 million in 2017. Many companies are vigorously working towards the development of therapies for the treatment of steroid refractory acute Graft Versus Host Disease (aGvHD) such as Incyte Corporation (Ruxolitinib), Kamada (Glassia), CSL Behring (Zemaira) & Elsalys Biotech (Leukotac). Incyte's Ruxolitinib is estimated to hit the market in the year 2019 for steroid refractory aGvHD. It is the only drug in the GvHD pipeline to receive Breakthrough Therapy Designation from FDA for treating acute GvHD. The regulatory agency has also awarded an Orphan Drug Designation to the therapy. The company is developing Ruxolitinib for both acute and chronic GvHD in second line setting.
The latest report has covered detailed descriptions about Disease Diagnosis, types, risk factor and pathophysiology. Epidemiology and patient population is also provided to better understand the disease distribution pattern. Treatment algorithms along with all current unmet needs are also covered to understand the areas of improvement. Detailed profiling of the marketed as well as pipeline drugs is also provided to understand the product potential and identifying promising therapies. Region-wise market size of GVHD is also covered to identify the major markets in the Respective domain. Report has also covered all the possible market drivers and barriers to understand the market and plan the strategies accordingly and remain ahead of the market competitors.
Free sample pages:
https://bit.ly/2OhGeyg
Table of Contents:
1. Report Introduction
2. GvHD Market Overview at a Glance
2.1. Market Share Distribution of GvHD in 2017 (%)
2.2. Market Share Distribution of GvHD in 2027 (%)
3. Disease Background and Overview: Graft versus Host Disease (GvHD)
3.1. Introduction
3.2. Disease Types
3.3. Acute GvHD
3.4. Chronic GvHD
3.5. Grades of GvHD
3.6. Pathophysiology
For Detailed Description Request for sample pages
6. Unmet Needs
7. Marketed Drugs
7.1. Imbruvica
7.1.1. Product Description
7.1.2. Regulatory Milestones
7.1.3. Advantages & Disadvantages
7.1.4. Product Profile
7.1.5. Safety and Efficacy of Imbruvica
7.1.6. Side effects of Imbruvica
For Detailed Description Request for sample pages
8. Emerging Therapies
8.1. Key Cross Competition
8.2. Therapeutics
8.2.1. Ruxolitinib: Incyte Corporation
8.2.1.1. Product Description
8.2.1.2. Other development activities
8.2.1.3. Clinical Development
8.2.1.4. Clinical Trials Information
8.2.1.5. Safety and Efficacy
8.2.1.6. Advantages and Disadvantages
8.2.1.7. Product Profile
For Detailed Description Request for sample pages
9. Total Market Size of GvHD in 7MM
9.1. 7MM Market Size by Therapies
9.2. United States-GvHD Market
9.2.1. Market Outlook
9.2.2. US Market Size by Therapies
9.2.3. Total Market Size of GVHD in United States
9.2.4. Market Size of Prophylaxis GVHD in United States
9.2.5. Market Size of aGVHD in United States
9.2.6. Market Size of cGVHD in United States
For a detailed description, request for sample pages.