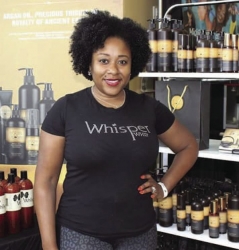 St. Charles, MO, July 27, 2018 --(
PR.com
)-- The Healthy Hair Care Solutions company recently announced the addition of "Whisper Whip" to their ever expanding product line. Healthy Hair Care Solutions' products are a staple to celebrities, naturalistas and vast number of women rocking their natural hair. Whisper Whip is an all natural hydration system; restoring the hair's natural curl texture, while adding moisture.
Healthy Hair Care Solutions' "Whisper Whip," is the dream product every curl thirsts after. It provides extreme hydration, curl definition, sheen and reparative properties that every curly girl needs. Whisper Whip is formulated with Almond Oil, Coconut Water and Shea Butter Oil. Like all Healthy Hair Care Solutions products, the Whisper Whip also repairs damaged tresses, leaving them bouncy, shiny, and silky smooth. Non-greasy and weightless compared to store bought products, Whisper Whip, is ideal for reviving and restoring natural curl textures.
Tendai Morris, founder of Natural Hair Care Solutions is celebrating over three decades of whispering healthy solutions and announced the new product launch through Texture Talk, stating, "I am so thrilled to have more women embrace the beauty of accepting 'My Natural is My Natural.' Whisper Whip is ideal as a professional line because no other company has developed a product like this yet, it is important to me to always be on the cutting edge and to continuously provide women embracing their natural hair texture with a product they can rely on!"
Morris, also recently announced the acquisition of the Healthy Hair Care Solutions collection expanding the Texture Talk brand bringing her dynamic one hour masterclass for healthy hair on tour. The Texture Talk Masterclass has the ability to empower, inspire and leave women really embracing their inner and innate beauty. Announcing her tour, she stated, "I'm excited to announce that we have officially acquired vast number of bookings in salons and at natural hair trade shows -- across the country."