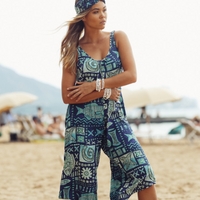 Honolulu, HI, July 31, 2018 --(
PR.com
)-- Jams World, the multi-generational, Made in Hawaii clothing company, releases their limited-edition 2018 Summer collection which features refreshing, contemporary prints along with the tried and true tropical florals customers love. As always, the prints are sourced from original pieces of art, hand selected from galleries around the world with the intention of inspiring -- taking you on a journey to see something new and feel something new.
The Summer 2018 line features "The Jumper," a brand new, simple yet sophisticated silhouette. With contemporary style and comfort in mind, The Jumper has a cropped wide leg, shaped hem, with sides higher than the inseam, bra-friendly straps, pull on styling, and side pockets. This modern silhouette can be casual and classy, easily dressed up for a special occasion. The Jumper comes in Jasper, Bevy, Aztec, Luau and Anahola Bay prints.
The Anahola Bay, pictured above, takes you to a summer day on Kauai's famous white sand beach, swimming and snorkeling in the blue Pacific Ocean. Designed with a Kapa motif, which includes native ocean life, and island fruits and flowers, giving us an elevated traditional Hawaiiana essence. This collection speaks to cultures far beyond the Pacific with the touch of contemporary and geometric art like the Aztec Candle print makes Summer styles offer the freedom to combine pieces in unexpected ways, with a bold print on print look, or played cool with vintage denim. Santa Monica and Sun Splash taste like Summer with a fun, passion fruit color palette. Feel tropical, while standing out from the rest in a worldly piece of art. Take the journey with us.
For more lifestyle and product images please contact Lei Rowan lei@jamsworld.com or Channon Cruz channon@jamsworld.com
About Jams World
The
Jams World
of today celebrates over 50 years of color, freedom, difference & love. Founder, Dave Rochlen, grew up surfing the California beaches. In 1962, Dave was transferred to Hawaii for work and "uncomfortable with the government industrial complex" left his job and opened a surfboard shop called Surf Line Hawaii on Kona Street in 1964. The company collects art from around the world, and each of their garments are a timeless piece of art. The art is screened in long lasting, stay true color on our exclusive 100% Spun Crushed Rayon. The fabric keeps you cool and just feels good. Their limited edition collections are cut and sewn in their Honolulu, Hawaii factory. Each print has coordinating hand-painted buttons created just for Jams World by a California artist. Jams World has remained a Hawaii based, multi-generational company dedicated to quality, individuality, and style which can be seen in each piece created. The company operates four retail stores located on Oahu and on the Big Island of Hawaii. Jams World products can also be found among authorized dealers throughout the United States and online at
www.jamsworld.com
.