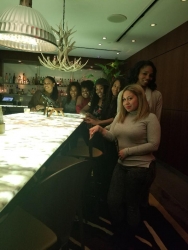 Chicago, IL, August 08, 2018 --(
PR.com
)-- "More black women are taking a vow of celibacy until marriage," states relationship blogger & author, Djuana Harvey. In her Facebook group of nearly 4,000 Single women, Djuana, 32, witnesses this phenomenon everyday. "More & more women are saying 'no' to swiping right, dating random men, and continuing to have sex, without marriage." In a land of situationships, almost relationships, & ghosting (when a man disappears, after a date without ever calling again), Djuana and her organization "The Single Woman's Suite" helps women rediscover their worth, empower them to wait until marriage to have sex. Although throughout her group, women of all nationalities, backgrounds, & ages, are encouraged, & daily inspired - over 85% of the women are African American.
From African-American women in their early 20's to women in their late 60's, the women are bonded by one thing- singleness. From venting about guys who pressure them to have sex, to a recent announcement of another woman who's gotten engaged, while waiting to have sex - It's clear, "The Single Woman's Suite" is a place of healing, wife preparation, & sisterly encouragement.
"Of course it's difficult to wait," says Djuana Harvey, the founder & 32 year old virgin, when asked about her own journey. "Just because you're waiting doesn't mean you don't want to have sex-you do!" She says with a laugh, "You just determine to wait because you know your worth!" The women in her group seem to share her sentiment, from the Bahamas to Kenya to New York City women of all ages & nationalities have agreed to come together August 23-25, 2018 in Chicago, IL at the first ever international conference for single women, "The Queens Arise Conference."
Karena Bradshaw, a faithful member, single mother, & leader of the Los Angeles chapter has these words to add, "This conference is going to be so powerful. We are literally going global with this movement!" And it's true, The Single Woman's Suite is going global with more than 20 in person groups internationally from its start in April 2017, women everywhere are joining in with this movement.
"And what better way to celebrate, than with a weekend girls getaway to Chicago?" Djuana says as she posts another inspirational post in her Facebook group - as she references the upcoming Queens Arise Conference. In a world where women are expected to sleep with men on first, second, & third dates, & definitely after a month or two of being exclusive, Djuana encourages women to wait. With African American women from around the globe coming to Chicago, IL to be a part of this transformational event, it would seem
The Queens Arise Conference
is a chance for every single woman to celebrate their journey, be empowered to wait, & rediscover their worth. With speakers such as celebrity preacher, Real Talk Kim coming to cheer them on, Djuana hopes that each woman will walk away feeling refreshed, re-energized, transformed, & knowing they too are worth the wait.
For more information, please register at www.queensarise.com. Registration ends August 17, 2018. If interested in sponsorship opportunities please e-mail singlewomanssuite@gmail.com.