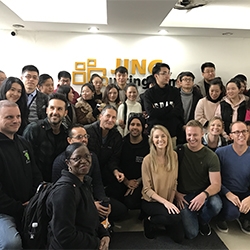 Yiwu, China, August 14, 2018 --(
PR.com
)-- Jingsourcing, a Chinese sourcing company dedicated to assisting small to medium businesses, has just earned the distinction of successfully serving 2,000 customers within 3 years from its inception. The company's efficient service has been instrumental behind the rise of numerous overseas companies looking to import quality goods from China to their home country for sale.
Though China is considered to be a hotspot for a wide range of high-quality goods, importing these goods from China can be a difficult task for the inexperienced importer because of the unique culture of the country. Under such circumstances, importers often rely on Chinese sourcing companies to find suitable suppliers.
At present, there are more than one thousand sourcing companies in China, mostly serving large and medium-sized dealers such as Walmart, Costco, Carrefour, etc. On the other hand, small importers can only find Chinese suppliers through Alibaba, or the suppliers that are already working as their business partners. However, they often encounter different obstacles due to the absence of professional sourcing support. This is where Jingsourcing comes in to solve the problem.
Jingsourcing helps customers purchase in China through the internet, saving them time and money. Unlike traditional sourcing companies, they help overseas importers to
import from China
by sharing their experience in the procurement industry on the website. They also make use of Google Rankings, social media and other means to market on the internet.
In general, most sourcing companies are able to serve no more than fifty customers per year. The innovative business model from Jingsourcing has helped them serve more than two thousand European and American customers in just three years.
The team at Jingsourcing comprises over forty people offering sourcing assistance and customer support. More than thirty of the team members are dedicated to serving the American customers, and six provide service to the company's European customers.
Jingsourcing's service is currently focused mostly around North American and European countries. This is primarily because they consider the availability of customer representatives in sufficient numbers a key factor in serving customers. Moreover, the company focuses on serving the thriving US e-commerce market with the intention of accumulating experience that may prove crucial in terms of providing quality service to customers in other countries.
"A good customer representative must have good English language proficiency, wonderful customer communication skills, and sufficient experience in manufacturing in different industries in China," says Jing, the founder of Jingsourcing. "However, cultivating such a good customer representative requires a lot of time and effort. That's why the current number of people in the company can't help other countries' customers."
Expressing pleasure about serving two thousand customers in three years, Jing added, "Our innovative approach to sourcing has helped us stand apart from companies that still rely on traditional means. We are thankful to all our customers for helping us achieve this milestone and look forward to maintaining our service quality in the future."
Click here
to learn more information about Jingsourcing.
About Jingsourcing: Jingsourcing is a China based sourcing company dedicated to helping small to medium business source reliable product suppliers from China. In three years since the inception of the company in 2015, they have grown from one to fifty people, and have become the most famous sourcing company on the Internet for Chinese products.
They are the first company offering free sourcing service. With no upfront charges, the importers can enjoy complete import services including sourcing, production follow up, quality inspection, and shipping arrangement.