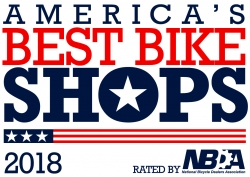 Wilmington, NC, August 21, 2018 --(
PR.com
)-- Each year over four thousand independent bicycle dealers across the US compete yet fewer than two-hundred are selected as "America's Best Bike Shops" by the National Bicycle Dealers Association. This year Wilmington's City Bicycle Company became the first area bike shop to ever win this prestigious award.
NBDA's "America's Best Bike Shops" program is designed to identify and reward bicycle stores in North America for having the highest performance standards in the industry. To be considered, a store must submit a detailed application, and agree to be mystery shopped by an outside company. Shops are then awarded points based on their application and shopping results, and then only the highest performers are ultimately selected.
City Bicycle Company, Wilmington's Adventure Cycling Center, has been serving Wilmington and the surrounding area since opening in early 2017 and has experienced phenomenal growth and success in less than two short years. Unlike traditional bike shops who primarily focus on road bikes from only one or two brands, City Bicycle Company focuses on "all-surface" cycling and represents over 30 different bicycle brands.
That's important because 2017 saw a 12% decline in road cycling nationally, and yet gains in all other major areas of cycling. Distracted driving and lack of infrastructure is forcing many would-be cyclists off the road. City Bicycle Company seems to be in the right place at the right time to capitalize on the exodus from road cycling toward greenways, rail trails, gravel roads, beach riding, and mountain bike trails.
Bike shop owner, Matt Jones, a four-time state champion mountain biker and Mary Florian, a Race Across America Winner and their staff operate City Bicycle Company from their South Kerr location in Wilmington's midtown. For more information about this press release please contact Matt Jones.