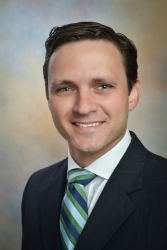 Hamilton, NJ, August 23, 2018 --(
PR.com
)-- David Slaugenhoup, a senior consultant in the National Environmental and Construction Professional Liability Practice of RT New Day, will address the strategic transfer of environmental construction risks at the 2018 Construction Environmental Conference hosted by the Associated General Contractors (AGC) in Crystal City, Va. from September 12 – 13.
During the panel titled "Identifying, Avoiding, Mitigating, and Insuring Environmental Risk in Construction," Slaugenhoup will join industry experts on September 12th in a discussion of present-day pollution liability exposures and the strategies currently available for transferring risks and avoiding costly delays and litigation. This includes identifying the insurance products needed to overcome challenges both big and small from a jobsite perspective.
"Environmental problems occur daily throughout the country and the consequences can be devastating," explains Slaugenhoup. "This presentation will highlight the many regularly-occurring pollution liabilities and the coverage forms that can protect against costly delays, government fines, and even lengthy cleanups. In addition to satisfying federal and state regulatory requirements, many of these programs have also become vehicles of choice for helping real estate owners to facilitate transactions and manage a wide breadth of operational and legacy environmental risks."
For more information on the 2018 AGC Construction Environmental Conference please visit http://meetings.agc.org/cec/ or contact RT New Day (newday.rtspecialty.com) at 609-298-3516.
About R-T Specialty, LLC
RT New Day, a division of R-T Specialty, LLC, is a specialty resource for agents and brokers, assisting them and their clients find appropriate, high-quality environmental and construction-related professional liability insurance coverages. RT New Day offers agents and brokers single-point access to an ample portfolio of products and services provided by the nation's largest environmental and professional liability insurance providers. In California: R-T Specialty Insurance Services, LLC License #0G97516. For more information please visit newday.rtspecialty.com or call 609-298-3516.