The All New MAXGRIND™ Pill Crusher and Grinder by Maxpert Medical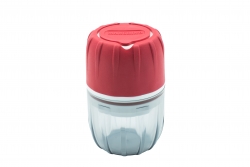 Galloway, OH, August 25, 2018 --(
PR.com
)-- The eloquently designed MAXGRIND Pill Crusher & Grinder delivers a safe, simple and satisfying pill crushing experience. MAXGRIND is truly like no other twist style pill crusher.
The ergonomic, cleverly sized crusher easily conforms to your hands while the anti-slip rubber material provides grip to simplify twisting action.
MAXGRIND takes a top down approach. With its dynamic crushing and grinding operation that performs with a simple back and forth action like that of a pepper grinder, a fine powder is sifted from the top of the crusher into a unique detachable, bottom cup. Transparent for easy viewing, the bottom cup doubles as a serving dish and allows food or drink to be mixed directly with crushed medication for easy consumption. Wonderful ridges displaying a starburst pattern on the crushing surface not only aid in the dual action crushing and grinding, they release powder without trapping and withstand rigorous use without the worry of any plastic residue flaking into crushed medication. Don't stop your pepper grinding action too early. Continuing to free spin once crushing is complete activates the internal cleaning feature where air circulates within the crusher, thereby blowing remaining powder into the bottom cup. All of this means less medication remains on the grinding surface and in the crushing well.
The result is a safe and complete delivery of medication.
There's more. Top to bottom, MAXGRIND is a convenient, user friendly crusher and grinder.
A built-in storage compartment on the top of the crusher is ideal for travel. Moving to the bottom, a one of a kind secondary crushing option is to drop a 1-ounce, disposable plastic medication cup into the bottom serving med cup where the perfect fit allows crushed medication to be funneled directly into the disposable cup. The disposable cup can be easily removed, and food or drink can be mixed directly into the disposable cup or crushed medication can be emptied into your food dish for mixing and consumption. This unique option minimizes crusher cleaning and is a simple way to sprinkle crushed medication into food or drink.
Simply stated, MAXGRIND offers a new twist on pill crushing.
To learn more visit
https://maxpertmedical.com/product/maxgrind-pill-crusher-and-grinder/
Contact
Maxpert Medical
Spencer Fullerton
866-231-1222
www.maxpertmedical.com

Contact