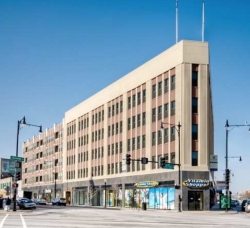 Chicago, IL, August 29, 2018 --(
PR.com
)--
The BSC Group
, LLC, a leading Chicago based commercial real estate financing advisor, has arranged financing for The Klee Plaza, which includes 22 condominium units and 20,000 square feet of commercial space located in Portage Park's "historic-style" six-corners shopping district in Chicago. Klee Plaza was originally redeveloped as a 64 unit condominium project, however 22 of the units remain unsold. The BSC Group was able to provide a non recourse financing package with a 10 year term and interest only amortization. The $5 million CMBS loan was used to refinance existing debt and pay applicable closing costs.
"The BSC Group was responsible for sourcing and negotiating the refinance of the Klee Plaza," said Stephen Lee, Senior Vice President with the firm. "The request was challenging because of the fractured condo component; however, we were able to find very competitive terms due to the low leverage nature of the request and strong financial history of the property."
Constructed in 1931, the art deco Klee building was named by the Klee Brothers & Company. Klee Brothers was one of the largest men's clothing department stores in Chicago at the time. During the 40's and 50's, Six Corners was a busy retail shopping area that was one of the largest in the city area. Other large departments stores located at Six Corners, such as Sears, made Six Corners into a Chicagoland icon. Klee Brother's & Co. prospered up until the 60's when the business was sold out to the Rothschild's clothing chain. Since then, from the early 1980's up until the early 2000's, The Klee Building was completely vacant. In September of 2002, the proposal for the current 64 condominium development was approved and redeveloped by the current owners.
According to Marc Sussman of the property ownership group, "The BSC Group provided a market leading execution and fought to deliver the best terms available, while properly managing our expectations. They were extremely transparent throughout the entire process and worked with us every step of the way to ensure a smooth closing."
The loan was originated by Stephen Lee, a Senior Vice President with The BSC Group.
About The BSC Group
The BSC Group, LLC was formed in 2009 and offers financial and loan advisory, mortgage brokerage and loan workout solutions to commercial real estate property owners and investors, with a special emphasis on the self-storage market. Through its capital source network, The BSC Group provides clients with access to debt and equity financing for commercial real estate investments nationwide. This allows them to go beyond traditional loan origination services and also deliver advisory expertise that includes helping clients establish realistic expectations of what the market can deliver, counsel on leveraging current self-storage portfolio investments, and recommendations for financing packages that meet specific capital requirements.