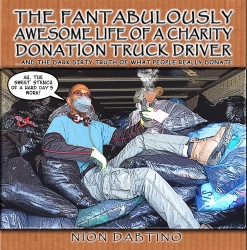 Toronto, Canada, September 03, 2018 --(
PR.com
)-- Most people don't give much thought towards the people who pick up and sort through their donations when dropped off at a charity's clothing donation bin. For the first time, a new book reveals the type of atrocious items people donate when they think no one is paying attention. The book also showcases the greater global phenomenon of charity donation bin dumping.
Chronicled in The Fantabulously Awesome Life of a Charity Donation Truck Driver, author Nion Dabtino uses his personal collection of pictures and documented conversations with donors and other drivers to share the rarely seen reality of the good-versus-horrific items people donate to local charities. His stories mirror media reports from Australia, New Zealand, The United Kingdom, The United States and Canada concerning the growing problem of "bin dumping."
The multi-million dollar business of clothing donations is a main source of revenue for numerous not-for-profit causes worldwide. The responsibility to collect and deliver all those donations to partner thrift stores falls solely on individual truck drivers. In a single day a driver can collect over 2 tons of donated clothes and miscellaneous goods.
Nion and his fellow drivers have seen it all when it comes to the limits of what people consider "donations." Along with good, clean and thoughtful donations that help charities like his raise needed funds to help people across the country, Nion has also picked up oddities like rusted tools, soiled diapers and mattresses covered in black mold. He's had to pick-up disturbing objects like used and stained sex toys, old rotting meat and bio-hazardous medical containers filled with used needles. Every shift is a new surprise.
Nion, who works for one of the nation's largest not-for-profits, started using his cell phone to photograph oddball items left at donation bins a year into starting his job. The decision to publish his pictures into a book was made after he realized the vast majority of donors he spoke to were either "shocked" to discover such dumping existed or they personally dumped unusable goods because they didn't know any better. This book is Nion's way of educating the public on the do's and don'ts of donating to charity.
Beyond the displayed images of inconsiderate donated items like a literal garbage bag of feces and decades old food, The Fantabulously Awesome Life of a Charity Donation Truck Driver also provides readers a summarized glimpse into how the donation business works. The 70-page book gives advice on how to best donate items to help charities and it shines a spotlight on the proliferation of fake for-profit donation bins. How donated clothes from industrialized nations end up in Africa and Asia. Readers will be surprised on just how cutthroat the charity clothing donation business can be.
The Fantabulously Awesome Life of a Charity Donation Truck Driver is being published through Zelpha Comics and Collectables Ltd. It is available on Amazon, Smashwords, Barnes and Noble and Kobo websites in both ebook and paperback formats. This book is the first of its kind to showcase a job and industry that has proliferated worldwide, yet as a collective society, we know very little.