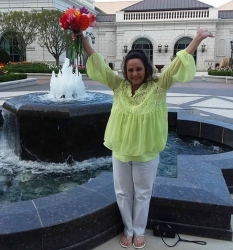 Ogden, UT, September 06, 2018 --(
PR.com
)-- For the 6th season, Say YES to HOPE is bringing twelve advanced cancer patients to New York City for the SMGlobal Catwalk on September 9, 2018 from 6pm – 9pm during New York Fashion Week at The Watson Hotel. Darla Rodgers, a 3 time catwalk veteran, will be a featured survivor model along with eleven other terminal cancer patients from around the country who will be modeling couture fashion.
Darla is a courageous inspiration to other patients sharing her message of "I'm living with cancer!" Even though she has undergone a barrage of treatments including chemotherapy, immuno-oncology, surgeries, two SIR-Spheres treatments for her liver tumors, targeted treatments, and even survived dangerous blood clots, her attitude and enthusiasm for life brighten the catwalk and extends to everyone she meets.
Darla says, "I am on fire with life. I'm going to show everyone that there is always hope! I love being a model – the dress, hair, makeup and excitement, but to show the world that cancer is not all doom and gloom and to be with the other survivors is priceless!"
Don't miss the opportunity to watch Darla and other survivors as they make their way from chemo chairs across the country to the glitz and glamor of NY Fashion Week!
About YES!
YES! is a non-profit organization that was created to provide information, resources, and support for anyone that is affected by advanced cancer that has spread to the liver. For more information visit
www.SayYEStoHope.org
or call the Survivor Line at 877-937-7478.