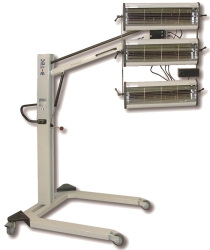 Scottsdale, AZ, September 07, 2018 --(
PR.com
)-- B-Tec Systems have been evaluating the cost of drying automotive panel repairs with infrared compared to a spray-booth / convection oven.
Peter Phillipson of B-TEC Systems explains how using infrared to cure smaller paint jobs can reward you with significant cost savings.
"Some compare the use of infrared in the body shop to cooking methods. Why use the oven to heat a plate of beans, when the microwave or grill can do it quicker and at less cost. Firstly let's explain how both infrared and booth cycle costs are evaluated.
"The infrared breakdown is easy, so let's take a look at the cost of baking with a 3000w (3KW) short wave infrared unit like the B-TEC IR-B03 (pictured).
"The cost of electricity in the average shop is about .10 cents per kilowatt hour, so if you ran that unit for 1 hour, it would cost you .30 cents. Now the average cure time with the IR-B03 is only 15 minutes, so you divide .30 cents by four, which means the energy cost is around 7.5 cents per bake. Some states charge a little more, so let's be generous and round that up to .10 cents per bake.
"Booth cycle costs are a little more complicated as there are many variables. For example do you use fuel oil, natural gas, or propane? What is the size of your booth motor? What type of booth do you have? And what is the size of the booth? What is the outside air temperature? When we averaged these variables out and based it on an air temperature of 10C / 50F, we arrived at just under $15.00 per bake cycle for 1 hour."
Note: Propane was based on $2.50 a gallon. Fuel oil at $3.22 (January 2018 price). Natural Gas $13.00 (Dollars per Thousand Cubic Feet).
"Now consider if short wave infrared was used on 2 jobs per day. A shop would save $30.00 per day, minus the .20 cents for 2 bakes using infrared. Therefore the total cost savings are $29.80 per day. Now assume the shop is open 5 days a week. That's $149.00 savings per week. Assume shop is open 50 weeks per year, and that shop saved $7,450 .00 per year! Not too shabby considering the cost and ease of use for infrared!
"Another way of looking at the potential cost savings is to enter your own estimate of what your bake cycle is costing you into our payback formula. It makes for an eye opening exercise."
If you would like a PDF copy of the pay-back formula, drop Lori at B-TEC Systems an email at btecusaoffice@gmail.com and she will send you a free copy. That formula will also include Time Savings.