Historic Meteorite, Not Seen in Public for 20 Years, Now on Display in Denver
Monahans meteorite provided first direct water samples ever found in a meteorite.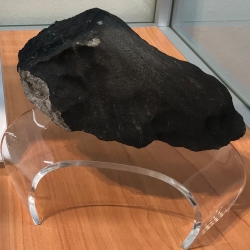 Tucson, AZ, September 13, 2018 --(
PR.com
)-- One of the world's most unique and fascinating meteorites has found its way to Colorado for a limited engagement at the Denver Mineral Show. The Monahans meteorite, named for the town in west Texas where it fell, is part of the Aerolite Meteorites exhibit in the National Western Complex, Coors Art Room, Level 3.
Meteorites are rocks that fall to Earth from outer space, and the Monahans meteorite is notable for several reasons. Its descent from the sky was seen by seven boys playing basketball outside on the evening of March 22, 1998 in Monahans. Such witnessed meteorite falls are rare, occurring only a few times a year across the planet.
Two pieces of the space rock crashed into the ground mere feet from the boys, making this one of the closest near-misses in all of meteorite history. The first stone created a 4-inch deep crater in the Earth's surface just 25 feet from where the boys were playing.
The meteorite specimens were rushed to NASA for analysis and arrived at Johnson Space Center less than 48 hours after the fall. Due in part to how quickly the space rocks arrived at the lab after impact, scientists were able to determine that the meteorite had water trapped inside, making it the first-ever discovery of liquid water in an object from space. The meteorite is believed to have originated from the asteroid belt between Mars and Jupiter.
One of the two meteorite fragments is still owned by the City of Monahans, but the second was sold at auction in 1998 and has been in a private collection – unseen by the public – for the past 20 years. It was recently acquired by the nonprofit Space, Arts and Science Institute, and is on loan to Aerolite Meteorites, Inc. for the duration of the Denver Mineral Show.
The public is invited to visit this remarkable piece of meteorite history, still in pristine condition, through Sunday, September 16 at the National Wester Complex, 4655 Humboldt St., 10 AM – 6 PM local time daily. The venue offers free admission and free parking.
About Aerolite Meteorites, Inc.: Aerolite Meteorites is one the world's top meteorite businesses, owned by Geoff Notkin of Science Channel's award-winning adventure series Meteorite Men. The company specializes in meteorite sales to collectors, universities and institutions; meteorite hunting, recovery and research; and science writing, photography, and television documentaries. For more information, visit www.aerolite.org.
Source: Aerolite Meteorites, Inc. Public Relations
Contact
Becca Gladden
623-210-6554

Contact