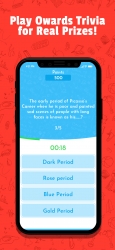 Chicago, IL, September 19, 2018 --(
PR.com
)-- Trivia app fans that are easily bored by mundane and predictable offerings can now head to the App Store to discover the challenging, engaging, and ultra-addictive new app Owards. This free app is a proven e-commerce and low-cost audience building tool for marketers. With in-game incentives, the data aggregator is the ultimate solution to market research.
"Today Google and Facebook dominate digital marketing, and they are making it harder for companies to control their interactions with their own customers and prospects. Companies are frustrated with a lack of transparency, crowded messaging, increased cost, and algorithms that seem to change on a whim. This is why we created Owards. Players play for fun and win real prizes and companies can learn more about their customers. Everyone wins." - Pete Walsh, Owards CEO and Co-Founder.
There are many unique factors that make Owards stand out from the competition in a crowded trivia and gaming app marketplace. To start, Owards has a wide network of relationships with major brands from hotels to restaurants, airlines and retailers, which makes offering personalized prizes just for Owards players part of the game. The more often a user returns to play, the more tokens they will earn for targeted, tailored discounts and prizes based on their personal preferences.
Offering B2B API for developers, the app has over twenty thousand questions (with more continuously being added) across a plethora of categories, such as pop culture, geography, movies, television, comics, music and many more. Plus, Owards never gets dull because users are always competing against new players, adding to the challenging factor for excitement and pressure. Winners can either choose tokens that help them continue to play or redeem for gift cards or electronics. Top finishers always get a discount, which helps brands effortlessly build loyalty with a large audience. The Owards engagement model motivates players to interact with surveys and video ads to deliver quality results.
Other key Owards special features include:
- A sleek and colorful arcade-style interface for engagement on the go!
- Direct to consumer deals and daily flash sales on products including electronics, hotels, gift cards, and other consumer goods.
- A platform built to accommodate a wide range of SKUs and can be customized based on players' profiles and preferences.
- Reach to an audience by collecting vital data from players.
- Access to more than 150K hotels, gift cards, airline miles, and more.
Earning several five-star reviews, one captivated player wrote, "What a great way to combine trivia knowledge and real incentives!"
Owards Co-founder, Chief Strategist and Marketing head, Sam Midanek says, "This app is the perfect collaboration of marketing tool and fun. It's ideal for anyone with a trivia obsession and the best opportunity for a company to market to them. With a low cost per customer install and data collected from surveys, Owards trivia brings players back to play again and again. Competitors can't resist competing for prizes from a wide variety of retailers."
Owards, the new trivia app is available now at no cost from the App Store at
iOS - https://itunes.apple.com/us/app/owards-trivia/id1378180313?mt=8
Play - https://play.google.com/store/apps/details?id=com.orion.owardstrivia
Facebook - https://apps.facebook.com/owardstrivia
Additional app information is available at www.owards.com
Contact:
Sam Midanek
Sam@myowards.com
312-576-2227