Her Paleo Keeps Lyme in Remission - The Trail to Health, Erika Schlick's New Paleo Cookbook, "The Wandering Palate"
For two years, she labored with the torment of Lyme disease. She went from a professional businesswoman to days in bed when even a shower left her exhausted. Now Erika Schlick is more than a businesswoman again. She's also a Certified Health Coach, a credible survivor of Lyme and autoimmune disease, and author of a Paleo cookbook that celebrates the reality of "getting your life back."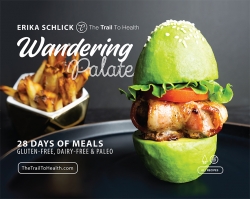 Los Angeles, CA, September 19, 2018 --(
PR.com
)-- Six years ago, following her first camping trip to Yosemite National Park in California, Erika Schlick became ill.
Very ill.
For two years, numerous doctors couldn't figure out what was wrong with her.
Even though Lyme disease attacks up to 300,000 Americans a year, its shifting symptoms and signals frequently make the affliction especially challenging to diagnose.
"Living with Lyme without a diagnosis is debilitating," Schlick recalls. "I went from being a licensed architect and owning my design firm to being sick in bed for years. I couldn't walk up the steps of my home. Taking a shower exhausted me for days."
Now, with her Lyme disease in its second year of remission, Schlick says she is considered "lucky" when so many others "will go decades before being properly diagnosed."
Schlick is still a licensed architect and continues to run her own design firm. However, after earning her Health Coaching Certificate from the Institute of Integrative Nutrition (IIN), she devotes much of her time to helping those who are where she used to be--sharing their fears, trials, and struggles with Lyme and Autoimmune Disease.
She achieves this through her "Trail to Health" website (
www.thetrailtohealth.com
) plus more than 15,000 followers on social media.
And now, in her new cookbook: "Wandering Palate: 28 Days of Meals Gluten-Free, Dairy-Free & Paleo."
"One of the first steps I took toward regaining my health was to change my diet," Schlick says. "I wrote this book to make the recipes easy and appetizing for people, especially for those healing from Lyme and Autoimmune through medical treatment and proper diet. Many of its recipes are inspired by dishes I enjoyed while traveling the world that I've modified into healthy, paleo versions."
What makes her cookbook of particular appeal is Schlick's use of simple ingredients in savory, wholesome recipes that are easy to prepare. "I avoid foods that make me tired and don't work with my body," she says. "Remission is possible."
It was her original diagnosis of celiac disease that led Schlick to replace a Standard American Diet (SAD) with gluten-free replacement foods. After continually feeling "tired and spacey," she turned to the Autoimmune Paleo Diet (AIP).
"The AIP helped me figure out the foods that worked and did not work for me," she says. "After the first few of weeks of detox, I started to feel good. My energy improved, my brain felt better. I didn't feel so weighed down by food that led me to another food coma in the afternoon."
After learning that Lyme had left her allergic to more than 60 foods on the AIP diet, Schlick turned to the treatment that ultimately healed her once and for all--stem cell therapy. As each allergy disappeared, she was able to add more foods to her daily diet.
As a result, she says, "This book is a celebration of the reality that you can get your life back."
Contacts for Erika Schlick:
www.thetrailtohealth.com
wp@thetrailtohealth.com
415.314.0938
Please Note:
In 2017, Erika Schlick was featured on the Netflix documentary, "Afflicted," in which seven people with chronic illnesses seek answers from someone who can help them. Erika's contribution is portrayed in Episode 4.
Contact
The Trail To Health
Erika Schlick
415-314-0938
www.thetrailtohealth.com

Contact