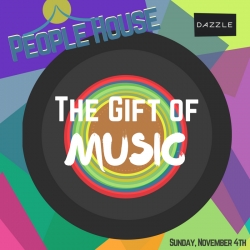 Denver, CO, September 24, 2018 --(
PR.com
)-- Andrew Romanoff, former speaker of the Colorado House of Representatives and current CEO of Mental Health Colorado, will be the special guest speaker on November 4, 2018, at People House's fundraiser at Dazzle to support affordable mental health resources in Denver. Romanoff served in the Colorado House of Representatives from 2001 to 2009 and as Speaker of the House from 2005 to 2009. His organization, Mental Health Colorado, advocates for the more than one million Coloradans who experience a mental health or substance use disorder each year. The organization engages policymakers, providers, the public, and the press to promote early intervention, expand access to affordable services, and eradicate stigma and discrimination.
The event, "The Gift of Music," will be open to guests from 5:30 - 9:00 p.m. The evening will kick off with remarks from Romanoff, then lead into performances by three top local bands, a silent auction and a raffle.
People House is a non-profit that has responded to the community's need for personal and spiritual growth and emotional healing for nearly 45 years. The fundraiser is organized to help support People House's efforts to keep mental health care accessible to all. The organization's Affordable Counseling Program provides professional counseling on an income-based sliding scale basis. This program served 704 clients in 3 locations in 2017.
"We are so pleased to have these amazing musicians join us to celebrate and raise money for our empowerment programs – and truly grateful to Dazzle for hosting the event," said Lori Ohlson, President of the People House board of directors. "And we are particularly thrilled that Mr. Romanoff, whose leadership makes such an impact on mental health in Colorado, as our special guest speaker."
Bands performing at Dazzle for this event include:
1) The Wendy Woo Band, a long-time Colorado favorite that has performed at top venues across the country including the Fox Theater and Red Rocks in Colorado, the Bitter End and the Living Room in New York, the Hotel Cafe in Los Angles, the Bluebird Café in Nashville, Sweetwater in Mill Valley, and Eddie's Attic in Decatur, Georgia.
2) The Cody Sisters, just back from a UK tour, excited about the North American release of their brand-new album "White on the Blue."
3) The Lovely and Talented, a special project founded by Denver's JT Nolan and joined by Matt Skellenger, Paul Hurd and vocalist Robin Sanchez.
Dazzle, voted by Downbeat magazine as one of the top 100 jazz clubs in the world, recently moved into its new location in the historic Baur's building at 1512 Curtis Street. Founded in 1998, Dazzle has become renowned over the last two decades for booking internationally known, Grammy-winning, and highly talented, world-class musicians. The new location in the Baur's building, which is on the National Register of Historic Places, doubles the space available for Dazzle customers and musicians alike.
Tickets are $35 and can be purchased at www.dazzledenver.com.