Alfonso Lovo Band, Number One in Blues, and Akademia Artist of the Year, 2017
Alfonso Lovo is a very versatile multi-instrumental musician, that can go from flamenco and acoustic blues guitar, singing, to electric blues, and jazz piano. His first album was Terremoto, Richter 6.35, and followed by Freedom Fighters in the 1980's. He is at his maturity as a musician, and this was proven by his performance at Rio Loco Festival in Toulouse, France on June 14, 2014. Now he is releasing in 2018, his New Orleans Sessions album.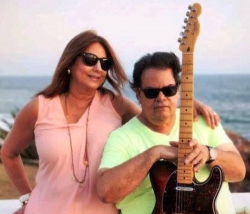 Miami, FL, September 24, 2018 --(
PR.com
)-- Alfonso Lovo Band is releasing the New Orleans Sessions, recorded in the 80's with Chepito Areas, from the Santana Band, in New Orleans, with some of the best jazz musicians, and singers from Bourbon Street. This album will be making waves in the music industry, that is thirsty for some real music, not computer data creations, or remixes. This album is all performed live, not digital music. Alfonso is playing, electric and acoustic guitar, and piano, even Hammond organ. The voices are outstanding, and Chepito Areas, is playing at his very best, Congas, Timbales, and Drums.
www.alfonsolovoband.com/#song-29447704-tu-eres-mala-
Contact
Alfonso Lovo Band
Alfonso Lovo
305-600-9134
www.alfonsolovoband.com
Alfonso Lovo, ponchowolf@gmail.com

Contact
Multimedia
This is a list of all the interviews and press that the Alfonso Lovo Band has gotten in the last few years.