NEXT Future Transportation Announces Autonomous Parcel Delivery Solution - Introduces the World's First Modular Mobile Parcel Locker
Silicon Valley autonomous transportation startup identifies final-mile parcel delivery as an opportunity to enhance the customer experience, while creating significant supply chain improvements to traditional operating models.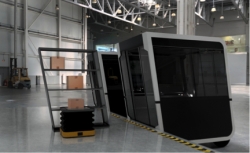 Dubai, United Arab Emirates, September 27, 2018 --(
PR.com
)-- NEXT Future Transportation Inc. ("NEXT"), the world's only modular electric vehicle solutions provider announced a groundbreaking automated logistics solution for Smart and Connected Cities.
Following NEXT's debut at this year's World Government Summit in Dubai, the startup is proud to announce the introduction of its fully automated multiservice "online-to-offline" (O2O) platform, including a modular vehicle solution and the supporting operating system required to bring an ecosystem of logistics services to market at scale.
"To date NEXT has entirely focused on creating innovative solutions for the municipal mass transportation market. Today NEXT enters the global USD $2.3 trillion e-commerce market, which is driving a rapid transformation of the traditional retail supply chain," said Emmanuele Spera, CEO of NEXT.
Built on NEXT's patented modular transportation platform, the logistics solution is an automated electric vehicle system that is designed to be customizable and scalable for a wide range of Mobility-as-a-Service (MaaS) applications. A fully integrated logistics solution, NEXT compliments warehouse optimization strategies, and workflow environments of 3PL's, Retailers and Manufacturers. The unique modular platform seamlessly integrates with mixed fleets of autonomous mobile robots existing operating systems.
Upon completion of the automated warehouse loading process, individual vehicles autonomously connect to form a fleet, thus allowing the joint internal space to be utilized. While in route, parcels may autonomously shift amongst vehicles to ensure optimal final delivery.
"NEXT's approach fundamentally differs from all current Autonomous Ground Vehicles and e-Shuttlesin that our vehicle's open interior design layout can flexibly adapt to accommodate specific needs. Furthermore, NEXT's fleets may be operated by a human driver, a remote human operator, or autonomously. Therefore we plan to operate on public roadways in the near term," said Tommaso Gecchelin, CTO of NEXT.
To meet the growing global market demands of future multi-mode transportation and business applications, NEXT is introducing the world's first Modular Mobile Parcel Locker.
"Our unique locker solution will provide retailers with more control, while reducing the overall costs of delivery. The public will benefit from superior flexibility and ease of use as delivery locations are determined by customer proximity," said Sven Hackmann, EVP of NEXT.
The Gulf region continues to be central to NEXT's success. The UAE is at the forefront of adopting innovative technologies, which are accepted by a predominantly young and educated population.
"With digitization driving business trends in the Gulf region, organizations are increasingly adopting automation solutions in their processes. Warehouses are becoming automated with the aid of robotics and automation, and NEXT's automated logistics solution will contribute to more efficient and faster last mile deliveries," said Gecchelin.
NEXT remains deeply committed to the vision of His Highness Shaikh Mohammed bin Rashid Al Maktoum, Vice-President and Prime Minister of the UAE and Ruler of Dubai, who launched the Dubai Smart Autonomous Mobility Strategy where 25% of all journeys in Dubai will be transformed into driverless journeys by 2030. "We are fortunate to have received early support from the Dubai 's Roads and Transport Authority (RTA) and DP World's business accelerator Turn8. Meanwhile, we are excited to explore additional partnerships in the Gulf region," said Spera.
NEXT will announce its project partners later this year.
Video: https://youtu.be/DZ7QeZAIoOM
Contact
NEXT Future Transportation
Emmanuele Spera
+1 (408) 646-7157
www.get-next.com

Contact
Multimedia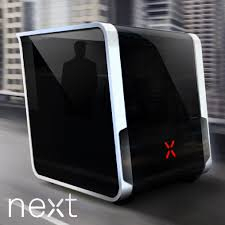 About: NEXT Future Transportation, Inc. is a mass transportation and goods movement startup that is developing a patented modular, autonomous, electric vehicle fleet and the supporting operating system required to bring the systems and services to market at scale.