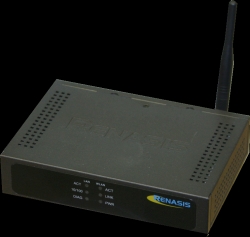 Provo, UT, March 18, 2008 --(
PR.com
)-- Renasis, LLC, a leading technology innovator specializing in the design, development and manufacture of wireless communications products today announced the entrance of its SAP36g High Powered Access Point into the gaming market. The top of its class for power, clarity, and stability, the SAP36g multifunctional access point produces a peak output power of 820 mWatts and increases wireless coverage area four-fold.
Says Alex R. of Utah, a gamer and IT specialist, who uses the Renasis SAP36g at home to host zero lag LAN parties, "My network kicks your network's ---! So come on over and let's play!"
"The SAP36g delivers a cleaner, more powerful signal than any other radio out there" said Ki Chun, president of Renasis. "It is a true 800 mWatt access point. This compact unit is easy to install and costs less. It's fast and fearless. It's the ideal wireless networking solution for gamers who want unprecedented speed and throughput."
Small and compact, the SAP36g provides extremely fast wireless transmission with a maximum wireless signal rate of 54 Mbps. Power over Ethernet (POE) allows installation of the device where power outlets are not readily available. A web based network manager offers network administrators the flexibility of easy configuring and monitoring of devices.
About Renasis
Renasis, LLC, specializes in the design, development and manufacture of wireless communications products, services and system solutions. Established in 2003 to meet the growing need for products which extend the reach of Wireless Local Area Networks (WLAN), Renasis' suite of broadband, high-speed wireless products includes amplifiers, access points, cables, antennas and a variety of wireless accessories. Experts in the innovation and implementation of wireless technology, Renasis provides OEM/ODM design services to a growing number of premier manufacturers. Renasis is headquartered in Provo, Utah, and can be reached at 801-407-1300 or www.renasis.com.
###