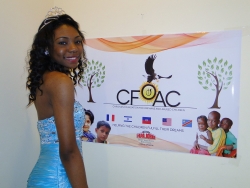 Atlanta, GA, September 28, 2018 --(
PR.com
)-- CFOAC to hold official opening of "Hands of Compassion Food Pantry" in support of orphans and abused children.
CFOAC will hold the official opening of "Hands of Compassion Food Pantry" at Atlanta Haitian Church of God. It will start at 10:00 AM with food donation. The organization will benefit a number of low-income families living in Atlanta and surrounding cities.
The event is sponsored by Kroger Co. Foundation, Aldi, Inc. and Publix.
About CFOAC
CFOAC is a 501©3 Christian nonprofit organization founded in May 2014 by a multi-disciplinary and a multi-denominational team. Our main objective is to save and to give back to the Children of Haiti and around the world by providing what every child deserves – a healthy start, an opportunity to learn and the protection from harm, especially when disaster strikes.
We thrive to save and improve our children's lives by providing them with the opportunity to become young responsible adults, parents and leaders who will bring lasting and positive changes in their communities. We promote societies whose individuals and institutions participate in valuing, protecting, and advancing the worth and rights of children.
Media Contact: Sheila Buteau
Tel: 774-294-4618
Email at: shelcom3021@comcast.net