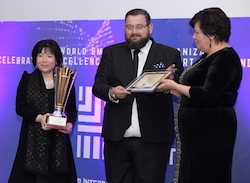 London, United Kingdom, October 03, 2018 --(
PR.com
)-- A petite woman from Vietnam was recognized with the grand award in Ideas, Models and Integrated Operations Center Platforms for Smart Nation at the Gala Awards Dinner of the Global Smart City Contest hosted by The World Smart Cities Organization on October 1, 2018.
Overtaking multiple smart city models and projects from many countries worldwide such as Indonesia, Portugal, Estonia, etc., Dr. Nguyen Thi Thanh Nhan – President and CEO of AIC Group was awarded the special prize of "World's Best Smart Nation Idea and Model."
The Global Smart Cities Contest also presented awards in several categories, such as Best Mobility Project (Qlue Performa, Indonesia), Best E-Government Project (Tomi World, Portugal), Best IoT Project (Atcogen, Tunisia), Best Energy Project (Energy Smart, Estonia) and Excellence Award (Dell EMC).
At the Gala Awards Dinner, Academician Dr. Nguyen Thi Thanh Nhan – President and CEO of AIC Group was also honored with the title of International Smart City Ambassador for her contribution and enthusiasm in fostering implementation of smart city models, especially by developing the holistic Smart Nation concept and model for Vietnam, which is not only highly innovative but also very practical and feasible, focusing on bringing benefits to all stakeholders of the society.
The World Smart Cities Organization, where top smart city experts gather, promote ideas and models of smart city and smart nation. According to the jury, the model proposed by Dr. Nhan is exemplary for nations and cities all over the world. Most smart city solutions proposed and implemented worldwide are merely separated efforts which focus on specific areas such as mobility, smart energy management, smart healthcare, safe city, etc.
The Smart Nation solution designed and developed by Dr. Nhan and her colleagues at AIC Group was highly evaluated because it enables holistic integration from central government organizations to ministerial and provincial organizations, even with departments and facilities within a municipality such as schools, hospitals, enterprises, etc. This integration model is based on smart applications, big data platform, real time data, artificial intelligence, socio-economic simulation and forecasting model, and integrated operations centers at all levels, facilitating multi-dimensional interactions that benefit more than 20 groups of stakeholders from leaders, managers, business organizations, researchers, healthcare professionals, teachers, students, tourists to citizens and all other stakeholders in the society.
Recently, there has been unprecedented determination of the Central Government as well as provinces and cities of Vietnam in implementing digital government and smart cities activities. This time, with international recognition of the Smart Nation concept and model by a Vietnamese enterprise, there is hope for Vietnam to become a smarter nation thanks to the contribution of pioneer companies such as AIC Group.