YOUNK Debuts with Sid Wilson at Boston College Fest
Boston hosted one of the "biggest back to school parties" of the year – College Fest 2018 at Fenway Park was attended by over 10,000 students who enjoyed myriad of talent at the YOUNK stage.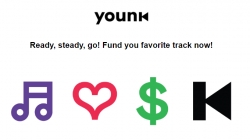 Boston, MA, October 03, 2018 --(
PR.com
)-- Sid Wilson of Slipknot debuted his new track "Wanna Be Younk!" the most recent collaboration with 7EVER is considered to be the anthem the community music label on blockchain. The music video is available here:
https://www.youtube.com/watch?v=LMPMPIN6Rr4&feature=youtu.be
"It has been great to see such a turnout at Fenway this year!" said Mariia Yelizarova, YOUNK's VP of Strategic Initiatives. "We have been really thrilled to host Sid Wilson, one of our biggest supporters. We also hosted artists from YOUNK TOP Chart - Kosi JAH, Andyva, guest star LILLA and Haynie all performed on the YOUNK stage."
The YOUNK concept delivers a music platform designed to provide an opportunity to empower young talent to find their recognition within the community of music lovers. YOUNK offers fans a unique chance to become more engaged in creating the music charts by giving both artists and fans direct access to the music industry.
During the YOUNK platform launch in late September, its founder Andrey Dakhovsky described that the YOUNK mission is to help expand, modernize and streamline the recorded music industry. With a core mission of giving the power of voice to the community YOUNK uses the latest available technology.
The College Fest at Fenway Park was a first step in a global launch of the fledgling YOUNK platform which gives both artists and fans access to the music industry.
YOUNK.com is the platform that utilizes the latest blockchain technology. This platform allows listeners, music experts, and artists to collaborate to make better music. Artists share their tracks with the community that listens and votes, then the best Tracks go to Hit Funding cycle. The community supports their favorite Track with YNK Tokens. Those Tracks that reach the Soft Cap or minimum required funding go to Production and Distribution.
Contact
YOUNK LLC
Mariia Yelizarova
857-261-2352
younk.com

Contact