Estron Chemical Announces Grand Opening of New Innovation and Technology Center
Estron Chemical is proud to announce the Grand Opening of its new Center for Innovation and Technology located in Calvert City, KY.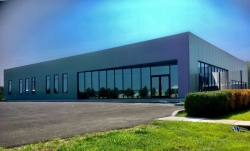 Calvert City, KY, October 09, 2018 --(
PR.com
)-- Estron Chemical, a global supplier of polymeric resins and additives, is proud to announce the grand opening of the Dr. Stanley B. and Ingrid I. Skora Center for Innovation and Technology. This cutting-edge facility will accommodate all of the company's research and application activities, including product development, synthesis and analytical testing. The center will serve to meet the demands of Estron's growing markets and enable the firm to more extensively collaborate with its customers and business partners, as well as take advantage of new opportunities. The center is located at the company's global headquarters in Calvert City, KY.
Designed by the award-winning firm Hastings Architects, the Center for Innovation and Technology incorporates novel coating technologies and sophisticated design features into an infrastructural investment that firmly entrenches Estron's roots in Western Kentucky. Construction and funding of the project was made possible by grants from the State of Kentucky.
To learn more about Estron Chemical, visit estron.com.
About Estron Chemical
Estron Chemical is a leading global manufacturer of flow / leveling agents, acrylic high performance binders, co-resins and crosslinkers for multiple sectors of the coatings, adhesives and cosmetics industries. With over forty years of experience in the powder and liquid coating markets, Estron Chemical is able to expertly serve customers across the globe. For more information, visit estron.com, or visit us on Facebook and LinkedIn.
Contact
Dr. Beth Ann Pearson
bpearson@estron.com
270-395-4195
Contact
Estron Chemical
Beth Pearson
216-386-7880
estron.com

Contact