Only Four Weeks Until the 20th Annual Global MilSatcom
SMi Group Reports: The 20th annual Global MilSatCom conference and exhibition returns to London next month.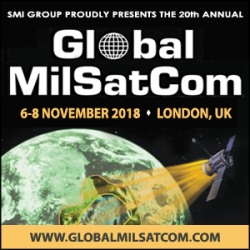 London, United Kingdom, October 10, 2018 --(
PR.com
)-- The landscape of defence satellite communications is changing rapidly, on both sides of the Atlantic - with the announcement of a new Air Force Space Command and conclusion of the Wideband AoA, the addition of new enduring capability for Skynet 6 and a new era of LEO mega-constellations set to provide new COMSATCOM bandwidth for military partners.
It is in this is the context that SMi Group will be hosting the 20th annual Global MilSatCom conference and exhibition – taking place in London from the 6th – 8th November 2018 at the QEII Conference Centre.
With over 500 attendees it is a key calendar date for satellite professionals across the alliance. Broken into 3 dedicated days of content, the meeting sets out to cover mission critical updates from national programmes from the US, Europe and the wider international community.
Visit the website's download centre to read a featurette on why Global MilSatCom is Europe's leading conference & expo for satellite professionals.
The full agenda is also available to download at:
http://www.globalmilsatcom.com/prcom
Event updates:
1) Three new sponsors and exhibitors have confirmed their participation: Hytec Inter, Open Cosmos and Satcube.
2) New speaker confirmed: Mr Thomas Beckt, MilSatcom Executive Director, US DoD will present on:
SMC's Launch System Enterprise in Support of MilSatcom
· Success of the recent launch of AFSPC-11 mission from Cape Canaveral
· How new launch is providing great coverage and communications resilience
· Continuous Broadcast Augmenting SATCOM (CBAS) and other payloads being delivered, and steps put in place to maximise mission assurance
· Working with local launch squadrons to augment existing SATCOM capabilities through space-based satellite relays
Bringing the conference to a total of 56 expert presenters from the following organisations:
· Airbus Defence & Space
· Australian Department of Defence
· Canadian Armed Forces
· COMSAT
· Defence Space Administration, Nigeria
· Defense Communication Command, Republic of Korea
· Defense Information Systems Agency (DISA)
· DGA
· Dstl
· EU Commission
· European Defence Agency
· European Space Agency
· Eutelsat America Corp
· French MoD
· GovSat
· Hughes Network Systems
· Intelsat General
· Italian Army
· Italian MoD
· Japanese MoD
· Kratos
· Lockheed Martin
· Luxembourg Directorate of Defense
· NATO Communications and Information Agency (NCI Agency)
· New Zealand Defence Force
· Newtec
· Northern Sky Research (NSR)
· Orbital ATK
· Raytheon
· SES Networks
· Space News
· Spanish MoD
· Thales US
· Thales Defense & Security
· UK MoD
· UK Royal Air Force
· UK Space Agency
· US AFRICOM
· US Air Force
· US Department of Defense
· US Marine Corps
· Viasat
Plus, there will also be a pre-conference: Small Satellites and Disruptive Technology Focus Day, 5th November 2018, St James' Court, London. Visit the website for more information.
Visit the website to book your place, download exclusive event content and view the latest agenda at:
http://www.globalmilsatcom.com/prcom
Opportunities for industry to sponsor, exhibit and contribute to the conference are extremely limited. For details on how your company can get involved please contact: Alia Malick on: +44 (0) 207 827 6168 or email: amalick@smi-online.co.uk
20th Annual Global MilSatCom
Conference: 6th – 8th November 2018
Focus Day: 5th November 2018
London, UK
Lead Sponsor: SES Networks
Gold Sponsor: Airbus
Sponsors: COMSAT, Eutelsat, GOVSAT, Harris, Hughes, Intelsat General (IGC), Kratos, Laser Communications Coalition, Lockheed Martin, Newtec, Raytheon, SES GS, Thales, Viasat
Exhibitors: Advantech Satellite Networks, Baader Planetarium GMBH, Comtech Telecommunications Corp., Datapath, ExoAnalytic Solutions, Hytec Inter, Inster, Integrasys, Open Cosmos, Satcube, SCISYS, Teledyne Paradise Datacom, US Air Force, XTAR
About SMi Group: Established since 1993, the SMi Group is a global event-production company that specializes in Business-to-Business Conferences, Workshops, Masterclasses and online Communities. We create and deliver events in the Defence, Security, Energy, Utilities, Finance and Pharmaceutical industries. We pride ourselves on having access to the world's most forward-thinking opinion leaders and visionaries, allowing us to bring our communities together to Learn, Engage, Share and Network. More information can be found at http://www.smi-online.co.uk
Contact
SMi Group
Shannon Cargan
207-827-6138
http://www.globalmilsatcom.com/prcom

Contact